Fast X: The story of Fast and Furious so far
After more than two decades, the Fast and Furious saga is finally making its final turn as the thrilling climax of the Toretto family's story comes into view in Fast X.
From the initial, mid-budget racing thriller directed by Rob Cohen, the films have exploded into an ambitious, globe-trotting action spectaculars that take their place as one of the most successful franchises of all time.
With Fast X on the horizon, here's our breakdown of the saga as it stands.
The Fast and the Furious | 2001
Based on a 1998 magazine article about street racing, 2001's The Fast and The Furious starred the late Paul Walker as Brian O'Conner, a police officer who goes undercover in the world of illegal street racing to investigate a spate of truck hijackings.
He befriends racer Dom Toretto (Vin Diesel), and is welcomed in by his family, including sister Mia (Jordana Brewster) and Dom's partner Letty (Michelle Rodriguez). However, after becoming close to Dom, and falling in love with Mia, Brian turns his back on his profession and helps Dom evade the authorities.
2 Fast 2 Furious | 2003
Vin Diesel's Dom didn't return for 2 Fast 2 Furious (2003), which had Brian and Tej Parker (Ludacris) being coerced into working with the FBI to take down drug lord Carter Verone. Brian recruits childhood friend Roman Pearce (Tyrese Gibson) into helping them.
They succeed and have their criminal records cleared, using a cut of Verone's cash to set up a garage in Miami.
The Fast and the Furious: Tokyo Drift | 2006
The Fast and the Furious: Tokyo Drift (2006) was a separate story following a young American racer (Lucas Black) entering the Tokyo underground racing scene.
Diesel made a cameo as Dom in the latter film's closing moments.
Fast & Furious | 2009
Toward the end of the decade, Fast & Furious (2009) brought the crew back together as Brian (now an FBI agent) reluctantly teams up with Dom in order to take down a heroin importer who is connected to the death of Letty.
The pair are successful, although Dom's involvement leads to him being arrested. Brian (now resigned from the FBI) and the remaining crew break him free.
Fast & Furious 5 (Fast Five) | 2011
From here, the movies moved from the racing to heist genre, moving around the world on elaborate missions.
Fast & Furious 5 (2011) saw Brian, Dom, and Mia put together a team comprised of characters from previous films to steal $100 million from a corrupt Brazilian politician (Joaquim de Almeida), while being pursued by relentless DSS Agent Luke Hobbs (Dwayne Johnson).
Fast & Furious 6 | 2013
The huge success of Fast Five was continued by Fast & Furious 6 (2013), where Hobbs recruits Dom and co to capture mercenary Owen Shaw (Luke Evans), who leads a crime syndicate that includes Letty, who is alive and suffering from amnesia.
Fast & Furious 7 (Furious 7) | 2015
2015's Fast & Furious 7 was of course overshadowed by the tragic death of Paul Walker, and so as well as Dom and the crew going up against Owen Shaw's vengeful brother Deckard (Jason Statham), it gave Brian a happy ending where he retired from a life of crime to be with Mia and their child.
Fast & Furious 8 (The Fate of the Furious) | 2017
In the following film, 2017's Fast and Furious 8. Dom is seemingly the bad guy as he leaves his life of domesticity to work for cyber terrorist Cipher (Charlize Theron).
It emerges that he is doing so in order to protect his son, whom he had with another woman when he thought Letty was dead, and was unaware of. The rest of the team band together to defeat Cipher, and while the mother of his child doesn't survive, Dom saves his son.
Fast & Furious Presents: Hobbs & Shaw | 2019
Outside of the main franchise, Fast & Furious Presents: Hobbs & Shaw (2019) saw Johnson and Statham share the screen as Luke Hobbs and Deckard Shaw are reluctantly partnered alongside Shaw's sister (Vanessa Kirby) to take down a cybernetically enhanced terrorist named Brixton Lore (Idris Elba).
Fast & Furious 9 (F9) | 2021
Faces from the past continues to haunt Dom in Fast and Furious 9 (2021), which saw the arrival of Dom's brother Jakob (John Cena). The younger sibling is estranged from Dom and Mia, working for the government before turning to a life of crime.
The two brothers fight to find a hacking device wanted by Jakob's associate Cipher, but family ties prove stronger as the pair reconcile.
Fast X | 2023
Fast X sees Dominic 'Dom' Toretto once again antagonised by Cipher, who has joined forces with a face from Dom's past. Jason Momoa plays Dante, the son of Fast Five villain Hernan Reyes.
Twisted by twelve years of grief, his plot for revenge will see the crew race across the world to prevent disaster, but Dom faces his toughest task yet when it emerges that Dante's target is his son.
Fast X will be part one of a two part finale to the franchise. The eleventh film (currently in development) will be the last in the main franchise. While this will be the end of the main franchise, cast and creatives involved with the films have expressed interest in telling new stories inside the same universe.
The correct order to watch the Fast & Furious films
The Fast and Furious movies are in chronological order, with the exception of the third film – Fast and Furious: Tokyo Drift (2006). Scenes in later films confirm that Tokyo Drift's story takes place in between Fast and Furious 6 and 7.
So, including the spin off movies, the order should be as follows:
The Fast and the Furious (2001), 2 Fast 2 Furious (2003), Fast & Furious (2009), Fast & Furious 5 (2011), Fast & Furious 6 (2013), The Fast and the Furious: Tokyo Drift (2006), Fast & Furious 7 (2015), Fast and Furious 8 (2017), Fast & Furious Presents: Hobbs & Shaw (2019), and Fast and Furious 9 (2021).
For the completists among you, there are also two short films: Turbo-Charged Prelude, a short film that comes before 2 Fast 2 Furious and shows Brian's journey between the first and second films, as well as Los Bandoleros, a prelude that comes before Fast and Furious (2009) concerning Dom's journey between movies.
Fast X will be released in UK cinemas on Friday, 19 May, 2023. Watch a teaser below.
The Ultimate List of the Best Action Movie Hero Names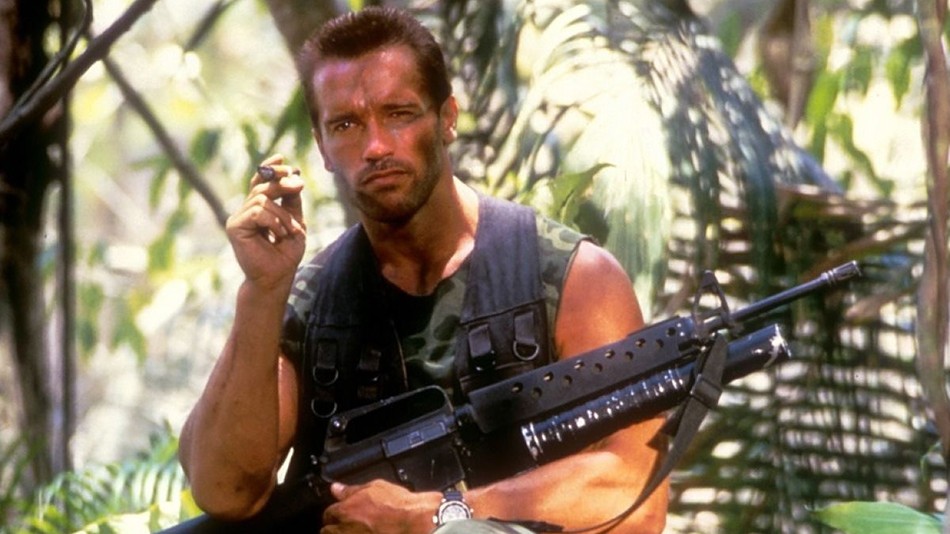 Arnold Schwarzenegger (aka "Arnie", "The Austrian Oak", or "The Govenator") is an ultimate action movie legend of the first class. Both a former Mr. Universe and Mr. Olympia champion bodybuilder and former Governor of California, Arnold has risen to the highest levels of worldly success.
Born in Thal, Styria, Austria, Arnold made his breakthrough into Hollywood action movies originally in sword-and-sorcery with Conan the Barbarian and in sci-fi with The Terminator, early roles which let him hide his thick accent and lack of American acting experience.
However, Arnold quickly found his niche and would go on to helm some of the most critically and commercially successful action movie blockbusters of all time. Including Terminator 2: Judgement Day and the Terminator Series, Commando, Predator, Total Recall and True Lies to name a few. While he has eased up in later years to pursue public office, his legacy remains Arnold strong!
Watch more Arnold Schwarzenegger clips here!
Arnold Schwarzenegger Articles
American Ninja 4: The Annihilation (1991) Biography, Plot, Trailer
American Ninja 4: The Annihilation (1991)
American Ninja 4: The Annihilation is a 1991 American martial arts action film starring Michael Dudikoff, David Bradley, and James Booth. A sequel to American Ninja 3: Blood Hunt (1989), it is the fourth installment in the American Ninja franchise, followed by American Ninja V and was directed by Cedric Sundstrom. The film marked Michael Dudikoff's final appearance in the American Ninja franchise.
Plot
A Delta Force unit attempts to escape from a pursuing group of ninja in a foreign country but most are killed and the rest are captured. The secret Ninja Army is headed by Colonel Scarf Mulgrew) an ex-British policeman and anti-American who has joined with Shiekh Ali Maksood, a Muslim militant, who plans to bring a suitcase nuke to New York. Mulgrew threatens to burn the commandos alive and use the nuke unless he is paid a ransom of 50 million dollars. Agents Sean Davidson and Carl Brackston are sent on a covert mission to rescue the prisoners and defeat the terrorists.
RELATED:
New York Ninja (2021) Biography, Production, Release, Trailer
Sean and Carl parachute in and meet their contact Pango. While gathering information from a local operative named Freddie, they are confronted by Mulgrew and the corrupt local police headed by O'Reilly. Freddie is killed by Mulgrew but Sean, Carl, and Pango escape. Pango takes them to Dr. Sarah a Peace Corps nurse who hides them from the police. Soon after ninjas attack, capturing Sean, Carl and Sarah alive while Pango escapes, and imprisoning them in an old British fort to be tortured by Mulgrew. Mulgrew assaults Sarah and later it is revealed Mulgrew killed her father.
Cast 
Michael Dudikoff as Agent Joe Armstrong
David Bradley as Agent Sean Davidson
Dwayne Alexandre as Agent Carl Brackston
Robin Stille as Dr. Sarah[3]
Ken Gampu as Dr. Tamba
James Booth as Colonel Scarf Mulgrew
Ron Smerczak as Shiekh Ali Maksood
Frantz Dobrowsky as Captain O'Reilly
Kely McClung as Super Ninja
Jody Abrahams as Pango
Anthony Fridjhon as Freddie / Treddle
David Sherwood as Gavin
Sean Kelly as Norris
Jamie Bartlett as Segal
John Pasternak as Carlos
Robin B. Smith as Schultz
Shane Safi as Little Special School Child
The post American Ninja 4: The Annihilation (1991) Biography, Plot, Trailer appeared first on martial-arts-viral-news.
Will Smith CONFRONTS Jim Carrey For HUMILIATING Him On Live TV
Get ready for the ultimate showdown! In this explosive video, Will Smith confronts Jim Carrey after being publicly humiliated on live TV.

The two Hollywood legends have a long-standing rivalry, but things came to a head after Jim's controversial comments about Will during an interview.
With tensions running high, Will finally has the opportunity to confront Jim face-to-face and demand an apology.
But will Jim be able to make amends for his insulting remarks, or will this confrontation only escalate the feud further?
Watch now to find out!
Here on Just In we are all about the latest spill in Hollywood! You can rest assured that we will bring you all the latest celebrity drama and gossip especially concerning your favorite actors! We´ll also make sure to keep you updated on the newest movie updates and releases – so if you are interested in anything that happens in Hollywood, you should make sure to stay tuned!
And there you have it guys! We hope you enjoyed the video! If you did please consider leaving a like and telling us what you thought in the comments!
But will Jim be able to make amends for his insulting remarks, or will this confrontation only escalate the feud further?
Watch now to find out!