A Cheesy, Bloody Good Time
Picture this: it's your wedding day. "The Bridal Chorus" is playing on the organ. You're in your gorgeous white wedding dress, with your hair and makeup done immaculately. However, you start to get overwhelmed by the wedding jitters, a very common occurrence during a bride or groom's wedding day, and get cold feet. Now, imagine that the reason for these jitters are because your husband-to-be has a shady past, filled with dead bodies in his wake. A past you are aware of, and were also somewhat part of.
For wanting out of this life filled with blood and money, you ditch your wedding day in fear, anger, and regret. However, after finding out about your escape plan, your husband-to-be sends his surprisingly heavily combat-trained groomsman after you in an effort to make this wedding go through. Not the greatest start to married life, right? This bonkers plot derived from '80s action movie greatness is the plot of the upcoming action comedy Til Death Do Us Part.
On its surface, Til Death Do Us Part draws a lot of inspiration from past action and horror comedy movies centered around brides. It's easy to compare it to the likes of Ready or Not, one of the best horror comedy movies of the past decade, based on plot alone, or the slightly similar You're Next. On top of that, the movie's main character, Bride (Natalie Burn), draws a lot of inspiration from Tarantino's The Bride from Kill Bill. While the similarities are apparent, Til Death Do Us Part manages to do enough to stand on its own two feet.
As a whole, Til Death Do Us Part is a bloody good time. Although the movie is certainly not without its flaws, the exhilarating action, over-the-top performances, excellent music choices, and ironically cheesy dialogue result in a modern movie which feels very much rooted as an 80s action flick. For those who love the 80s aesthetic and the previously mentioned films, Til Death Do Us Part is the movie for you.
Related: These Are the Most Honest and Realistic Movies About Marriage
To Have and to Hold
Kicking off very much like a Hallmark romantic comedy, with it's over-the-top romantic score, narration from the best man as he prepares his speech, and some cheesy editing and text. Til Death Do Us Part immediately throws audiences into the seemingly sweet wedding. From there, we cut to the honeymoon of the Bride and Groom (Ser'Darius Blain), as the two spend a lovely time on the beach before dancing the night away in a tropical bar, where they meet a mysterious couple.
Throwing linear storytelling out the window, we then see the Bride driving away from the church as fast as she can, before reaching a very boojie cabin, decked out with neon lighting and a cozy interior design. It isn't long before a car full of the groomsmen sent to capture the Bride pulls up to the house, looking for ways to get in. Soon, the groomsmen grow tired of looking for an open door or window and begin kicking down doors. The groomsmen have no idea what they are in for, as the Bride begins to take them all out one by one, before coming face to face with her former groom.
"Let's Dance"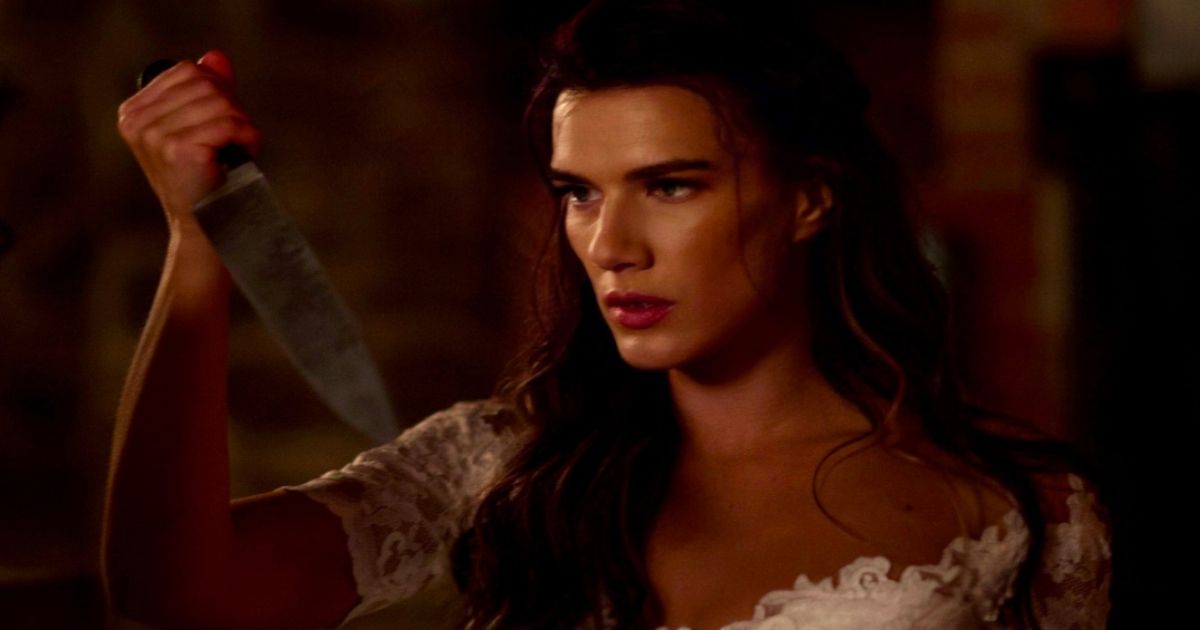 Cinedigm
Til Death Do Us Part's action is a ton of fun. Each set piece is well choreographed, well shot, and backed up by a pretty surprising soundtrack that enhances the movie's action. At one point, the Bride kicks ass while Bobby Day's "Rockin' Robin" is booming from the record player. Awesome stuff. Natalie Burn thankfully performs her own stunts, which really goes a long way in action movies, and makes these scenes and the characters' deadliness far more believable.
That said, some of the movie's editing during the action, and the movie as a whole for that matter, is a little off. This isn't for the entire movie, however there are some strange cuts and disorienting editing that will take audiences out of the experience.
Here Comes the Bride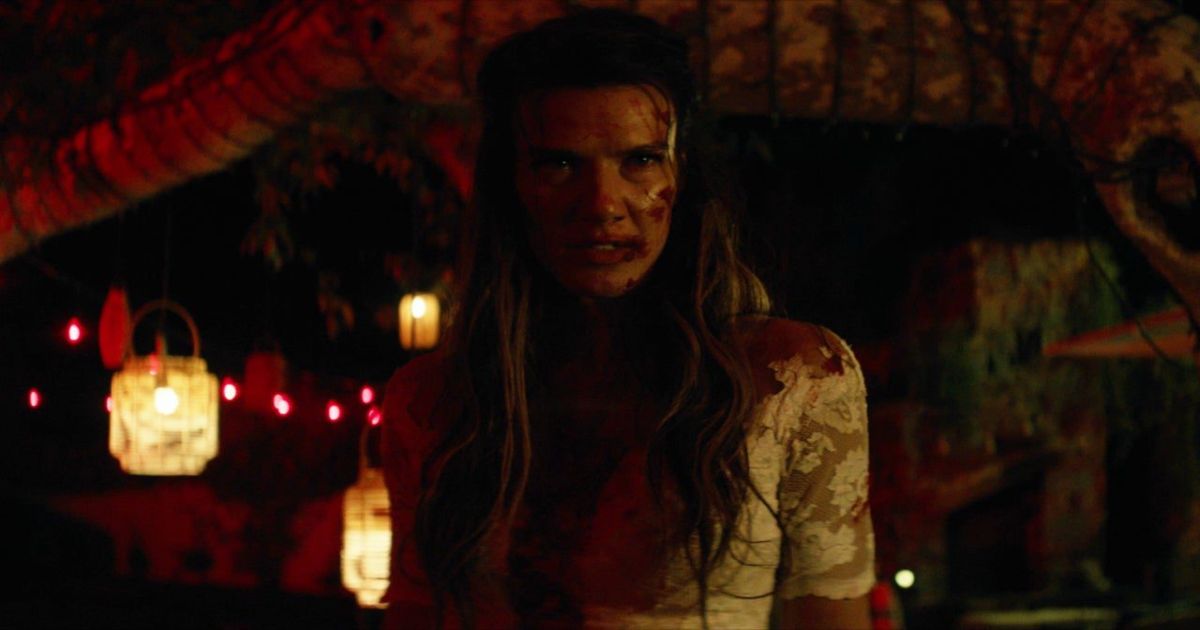 Cinedigm
The Bride, much like Beatrix Kiddo from Kill Bill Vol.1, is badass. She throws many high and powerful kicks, rapid punches, a lot of "nut" shots and kills off her attackers in a brutal and creative fashion. Natalie Burn is awesome in the role, enthusing her character with tenacity, ferociousness and truly selling the audience on how deadly she really is, and doing her own fight choreography allowed for a more immersive experience. Big props to Burn.
Related: Best Revenge Movies of All Time, Ranked
Labeling a film as cheesy, depending on who you are and what you're into, can either be taken as praise or criticism. Sometimes, movies or shows that ooze with cheese are a ton of fun. Hence the film's comparison to what it so often pays homage to — fun 1980s movies. They don't take themselves too seriously, allowing audiences to let their hair down and enjoy the madness unfolding on screen, and Til Death Do Us Part is just that. It's a bonkers, over-the-top fun time.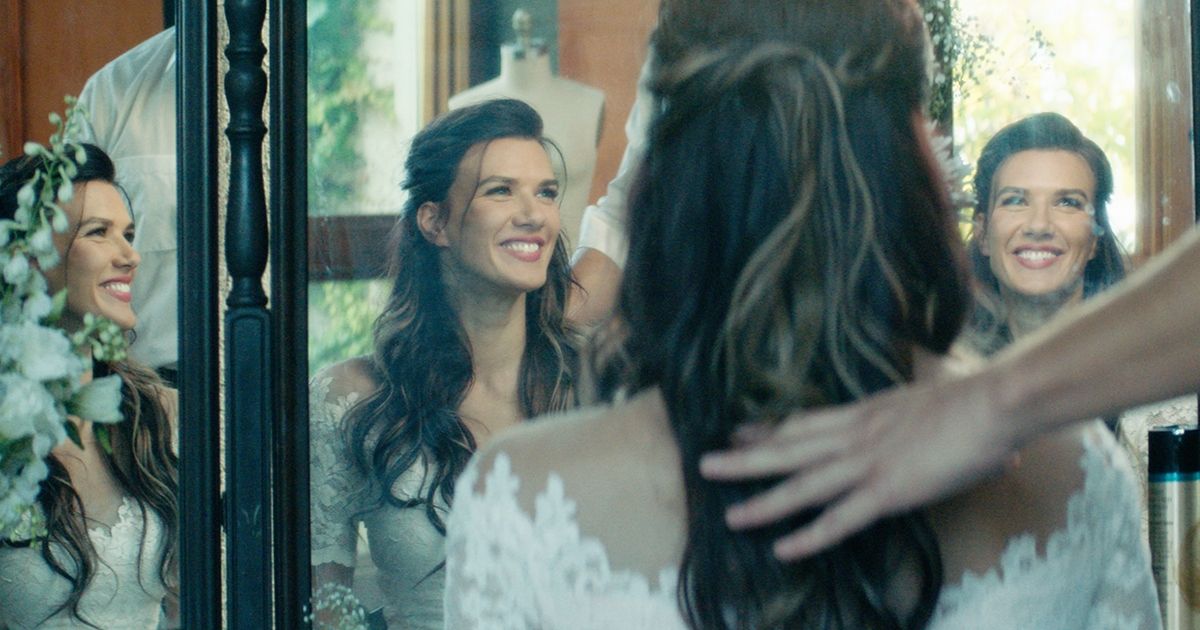 Cinedigm
On top of that, the movie's humor works great. Again, it's riddled with cheesy dialogue that's self-aware enough to be funny; a character threatening the Bride with "come here kitty" and her responding with "meow" is brilliant stuff. Likewise, the characters don't take it seriously at all. The Best Man (Cam Gigandet) constantly dances around while spewing out his meticulously prepared Best Man speech which he sadly never got to read. Groomsman Number Four (Orlando Jones) oozes with over-the-top charisma and charm. But perhaps the best is Groomsman Number Seven (Pancho Moler) who delivers some of the funniest and most bonkers lines in the movie.
The performances are larger than life and melodramatic, which actually works in favor with the film. The action and kills are perhaps a little too much, but that is by no means a criticism, and the story is simple and wild.
A Wedding with No Structure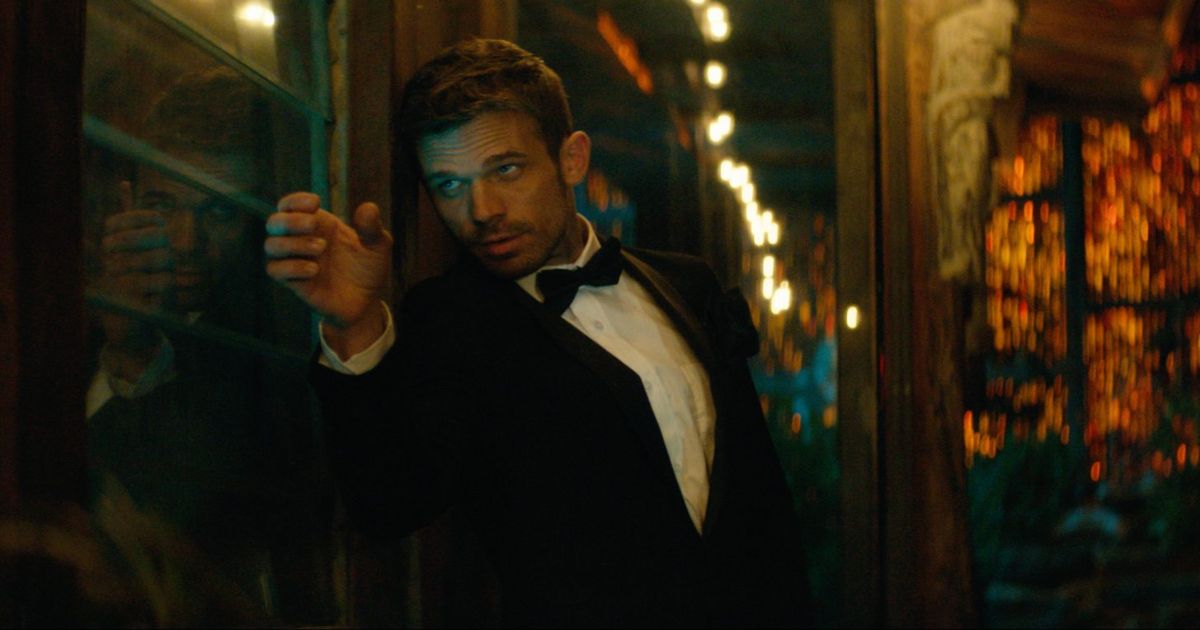 Cinedigm
Sadly, Til Death Do Us Part isn't without its faults. The aforementioned editing will put some audience members off, but perhaps the biggest criticism is that the movie lacks structure. With Til Death Do Us Part needlessly jumping back and forth with flashbacks or flash forwards, to the point where it's hard to tell what timeline a current scene exists in, and thus the movie starts to get a little confusing. Audiences won't know what act of the movie they are in.
With that, many may find themselves pausing the film constantly to see how long is left. This doesn't mean the film isn't entertaining or boring; it's more that as the movie goes on, it's hard to keep up with where audiences should orient themselves in the timeline, and where it's going. Likewise, perhaps a two-hour run time doesn't really work in the movie's favor. Nonetheless, the silly fun makes up for it.
Til Death Do Us Part releases in select theaters August 4th.
'I am officially off the market': When Margot Robbie revealed she made the 'conscious' decision of not dating actors

Margot Robbie revealed her decision to not date actors because of the media scrutiny that came with a public relationship of two high-profile actors
Back in 2015, A-lister Margot Robbie made a declaration that she would not be dating any actors. The actress may have alluded to her fiance Tom Ackerley, who she married the following year in 2016. In an exclusive interview with Marie Claire, she revealed that being in a relationship as an actor herself came with its own set of challenges. She believed that dating someone who was popular would add on to the media scrutiny.
Margot Robbie opened up on why she made a conscious decision to not date actorsTalking to Marie Claire, she claimed, "I am officially off the market." She then shared the reasoning behind her decision and added, "I made a conscious decision not to date actors." She continued to explain, "But not because I hate actors. That's a nasty generalization to make, and that's not the case. People take such an interest in your love life when you have a profile, it puts a lot of stress on a relationship."
The Barbie actress continued, "So two people with profiles, I figure it's just double the amount of scrutiny, and I'd like to avoid that at all costs." This came after reports of her locking lips with Tarzan co-star Alexander Skarsgard started making rounds. It was reported that she was caught kissing the actor during the Sundance Film Festival.
Margot Robbie revealed she opted for a minimal lifestyle even after becoming an actorIn the interview, Robbie also opened up about how she was adapting to fame. She shared, "I have a normal 24-year-old life. If I were a waitress, I'd probably have the exact same lifestyle. I'd go to the same clubs I go to already, live in the same house with the same housemates, hang out with the same people."
However, Margot Robbie tied the knot with Tom Ackerley who is an English producer and actor. The duo met on the sets of 2013 movie Suite Francaise where Tom was working as an assistant director. Post marriage, both of them launched their production company LuckyChap Entertainment.
Post navigation
Monica Bellucci and Tin Burton at lunch in the restaurant in Selci Lama

For All Saints' Day, the Hollywood star from Tiferno returned to his native Umbria to enjoy a moment of relaxation and then visit his parentsOn the occasion of the All Saints' Day celebrations, the Hollywood star of Tiferno origin, Monica Bellucci, returned to her native Umbria to enjoy a moment of relaxation and to visit her father Pasquale and her mother Brunella.Flanked by her current partner Tim Burton, she went to lunch, together with about twenty old friends, at the Osteria del Musicista, which has always been her favorite restaurant, in Selci Lama.Menu dedicated to typical dishes of the area, which includes an appetizer with breadsticks lined with coppa, duck in porchetta and grilled pork livers, polenta with wild boar sauce accompanied by the very typical cappelletti in broth.To conclude, a dessert based on fried "ciaccia" with Nutella and roasted chestnuts.
Having paid the bill and greeted the restaurant owner and lifelong friend, Roberto Polchi, Monica brought home cappelletti and broth for a family dinner.
Post navigation
'Rocky' Was Quite Different In His Original Screenplay, Sylvester Stallone Claims

Sylvester Stallone took his friend's advice on a rewrite of the original screenplay to Rocky. A few tweaks later, he was on his way to major success.
In the new Netflix documentary Sly, Stallone discussed how he initially conceived of the project, which had a much harder edge. In the early version, Rocky was depicted as a "thuggish" character, inspired by Martin Scorsese's crime drama, Mean Streets.
But Stallone's perspective changed when a friend read the script and thought the boxer was too cruel for audiences to actually care about him.
Stallone recalled her crying.
"She goes, 'I hate Rocky. I hate him. He's cruel. He hits people. He beats them up.'"
Stallone took it to heart, and asked what he could do to soften the character.
"I said, 'what if you stop short of it?' Like, maybe he almost did. He could have, that's his job, but he doesn't?' 'That'd be nice,'" he added. "I said, 'What if he had a girlfriend or something?' 'Yeah, that's nice.' So I go back, start writing that: 'Girlfriend. Nice.'"
$117 million in box office later, a franchise was born.
Stallone also revealed that actor Dolph Lundgren sent him to the hospital during one fight scene in Rocky IV.
"Dolph Lundgren… he pulverized me," Stallone says in the documentary. "Later that night, my heart started to swell—which happens when the heart hits the chest—and then my blood pressure went up to 260, and they thought I was going to be talking to angels. Next thing I know, I'm in intensive care, where I'm surrounded by nuns, and I thought, 'OK, that's curtains.'"
Stallone was in the hospital for nine days following the incident, praying for "one more round."
"For the first minute of the fight, it is going to be a free-for-all," Stallone told Lundgren. The Swedish actor joked in a separate interview that all he did was "obey orders," explaining, "[Stallone] was the boss. I did what he told me."
Doctors allegedly told Stallone that he received a blow to the ribs that made his heart rattle around in his ribcage, a condition typically seen in head-on collisions. "I did hit a bus, of sorts," Stallone joked.
Post navigation