Rocky Versus Rambo: We Rank Sylvester Stallone's Best Roles of All Time
5: Nighthawks (1981)
The premise: Originally planned as The French Connection III, the reworked thriller — Stallone's first major action film — follows two NYPD sergeants, Deke DaSilva (Stallone) and Matthew Fox (Billy Dee Williams, 85)
as they try to track down a deadly European terrorist named Wulfgar (Rutger Hauer) who's intent on causing chaos in the city. What ensues is a high-stakes cat-and-mouse game through the Big Apple that sees them dashing around everywhere from subway platforms to discos to the Roosevelt Island Tram.
Stallone dials it back for this underrated gem, which Janet Maslin of The New York Times summed up as "clumsy but fast, and very vividly etched, with plenty of excitement and spark."
4: Cop Land (1997)
The premise: Stallone holds his own opposite acting legends Robert De Niro (79), Harvey Keitel (83) and Ray Liotta in this "urban Western" from Walk the Line director James Mangold (58).
He packed on 41 pounds to play Freddy Heflin, a schlubby New Jersey sheriff who has long admired the NYPD but can't join their ranks because he's half-deaf after nearly drowning.
His town of Garrison is populated by crooked New York City cops with mob connections, and when one of them is involved in a racially motivated shooting, Heflin makes the tough decision to investigate the men he previously idolized.
The best part: For a taste of Stallone's underrated acting prowess, check out the scene in which he goes head-to-head with De Niro's Internal Affairs agent as he begs for help on the case.
3: First Blood (1982)
The premise: This 1982 film introduced the world to Stallone's second big franchise hero, John Rambo, a veteran with impressive fighting skills who's left traumatized by his time in Vietnam.
In the first installment, Rambo travels to Hope, Washington, to see an old military buddy, who he learns died from Agent Orange–induced cancer. Upon Rambo's arrival, the sheriff (Brian Dennehy) harasses him for being a drifter and kicks him out of town.
Rambo snaps and heads for the hills, where he reverts to the brutal guerrilla tactics he learned overseas in his escalating battle with the authorities. In future films, the elite fighting machine headed to Vietnam, Afghanistan, Burma and Mexico on deadly missions.
The best part: Though First Blood is rightfully remembered for its brutal action sequences, Stallone is at his most effective in an emotional breakdown scene that sees him melting into a puddle of tears and recounting his terrible experiences during the war and the awful ways he's been treated since coming home to America.
2: Rocky (1976)
The premise: When Stallone wasn't getting the acting roles he wanted in the mid-1970s, he took matters into his own hands and created one of the most indelible characters in film history: underdog Philly boxer Rocky Balboa,
whom the American Film Institute ranked seventh on its list of the 50 greatest heroes in American cinema history. Costarring Talia Shire (76) as Rocky's girlfriend, Adrian; Burgess Meredith as his trainer Mickey;
and Carl Weathers (74) as his rival Apollo Creed, the film was a sleeper hit that went on to become the highest-grossing film of 1976 and a three-time Academy Award winner,
including for best picture. It also kicked off a decades-spanning franchise that has taken in more than $1.7 billion at the global box office and counting.
The best part: There are perhaps more iconic scenes (those museum stairs!), but the film reaches its emotional peak when Rocky and Adrian finally profess their love for one another after his bout with Creed.
1: Creed (2015)
The premise: OK, we know this might sound blasphemous to Rocky diehards, but Stallone bested even his stellar debut in this heartfelt reboot from director Ryan Coogler. Balboa returns to train and mentor Adonis Creed (Michael B. Jordan),
the son of his former rival Apollo, but the elder boxer has to battle a life-or-death fight of his own when he's diagnosed with non-Hodgkin's lymphoma. The role saw Stallone at his most vulnerable and introspective,
and he was rewarded with best supporting actor wins from the National Board of Review Awards, the Critics' Choice Awards and the Golden Globes, plus his first Oscar nomination since 1977. It's a full-circle moment that combines decades of nostalgia with flat-out great acting.
The best part: Try not to get choked up when Adonis and a visibly frail Rocky ascend the Philadelphia Museum of Art staircase and Rocky quips, "I think they added a few more steps."
The Ultimate List of the Best Action Movie Hero Names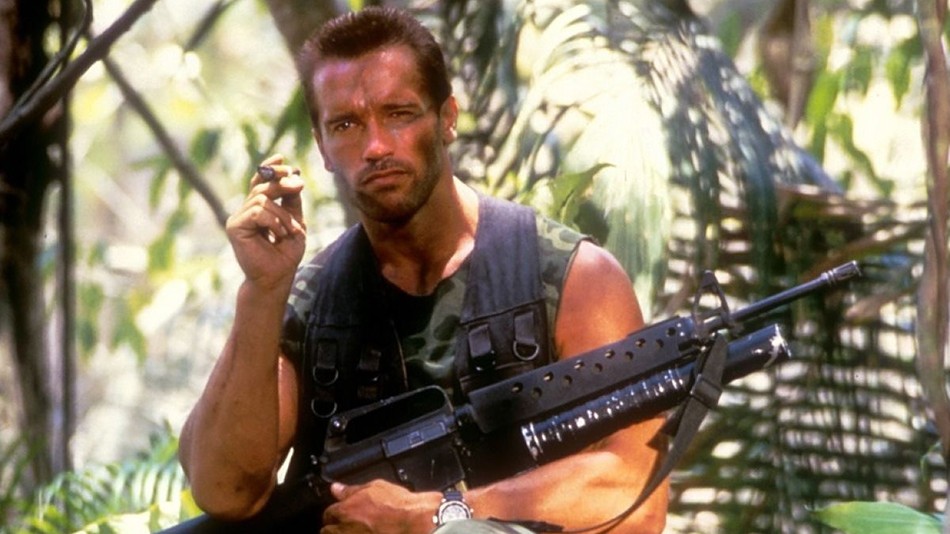 Arnold Schwarzenegger (aka "Arnie", "The Austrian Oak", or "The Govenator") is an ultimate action movie legend of the first class. Both a former Mr. Universe and Mr. Olympia champion bodybuilder and former Governor of California, Arnold has risen to the highest levels of worldly success.
Born in Thal, Styria, Austria, Arnold made his breakthrough into Hollywood action movies originally in sword-and-sorcery with Conan the Barbarian and in sci-fi with The Terminator, early roles which let him hide his thick accent and lack of American acting experience.
However, Arnold quickly found his niche and would go on to helm some of the most critically and commercially successful action movie blockbusters of all time. Including Terminator 2: Judgement Day and the Terminator Series, Commando, Predator, Total Recall and True Lies to name a few. While he has eased up in later years to pursue public office, his legacy remains Arnold strong!
Watch more Arnold Schwarzenegger clips here!
Arnold Schwarzenegger Articles
American Ninja 4: The Annihilation (1991) Biography, Plot, Trailer
American Ninja 4: The Annihilation (1991)
American Ninja 4: The Annihilation is a 1991 American martial arts action film starring Michael Dudikoff, David Bradley, and James Booth. A sequel to American Ninja 3: Blood Hunt (1989), it is the fourth installment in the American Ninja franchise, followed by American Ninja V and was directed by Cedric Sundstrom. The film marked Michael Dudikoff's final appearance in the American Ninja franchise.
Plot
A Delta Force unit attempts to escape from a pursuing group of ninja in a foreign country but most are killed and the rest are captured. The secret Ninja Army is headed by Colonel Scarf Mulgrew) an ex-British policeman and anti-American who has joined with Shiekh Ali Maksood, a Muslim militant, who plans to bring a suitcase nuke to New York. Mulgrew threatens to burn the commandos alive and use the nuke unless he is paid a ransom of 50 million dollars. Agents Sean Davidson and Carl Brackston are sent on a covert mission to rescue the prisoners and defeat the terrorists.
RELATED:
New York Ninja (2021) Biography, Production, Release, Trailer
Sean and Carl parachute in and meet their contact Pango. While gathering information from a local operative named Freddie, they are confronted by Mulgrew and the corrupt local police headed by O'Reilly. Freddie is killed by Mulgrew but Sean, Carl, and Pango escape. Pango takes them to Dr. Sarah a Peace Corps nurse who hides them from the police. Soon after ninjas attack, capturing Sean, Carl and Sarah alive while Pango escapes, and imprisoning them in an old British fort to be tortured by Mulgrew. Mulgrew assaults Sarah and later it is revealed Mulgrew killed her father.
Cast 
Michael Dudikoff as Agent Joe Armstrong
David Bradley as Agent Sean Davidson
Dwayne Alexandre as Agent Carl Brackston
Robin Stille as Dr. Sarah[3]
Ken Gampu as Dr. Tamba
James Booth as Colonel Scarf Mulgrew
Ron Smerczak as Shiekh Ali Maksood
Frantz Dobrowsky as Captain O'Reilly
Kely McClung as Super Ninja
Jody Abrahams as Pango
Anthony Fridjhon as Freddie / Treddle
David Sherwood as Gavin
Sean Kelly as Norris
Jamie Bartlett as Segal
John Pasternak as Carlos
Robin B. Smith as Schultz
Shane Safi as Little Special School Child
The post American Ninja 4: The Annihilation (1991) Biography, Plot, Trailer appeared first on martial-arts-viral-news.
Will Smith CONFRONTS Jim Carrey For HUMILIATING Him On Live TV
Get ready for the ultimate showdown! In this explosive video, Will Smith confronts Jim Carrey after being publicly humiliated on live TV.

The two Hollywood legends have a long-standing rivalry, but things came to a head after Jim's controversial comments about Will during an interview.
With tensions running high, Will finally has the opportunity to confront Jim face-to-face and demand an apology.
But will Jim be able to make amends for his insulting remarks, or will this confrontation only escalate the feud further?
Watch now to find out!
Here on Just In we are all about the latest spill in Hollywood! You can rest assured that we will bring you all the latest celebrity drama and gossip especially concerning your favorite actors! We´ll also make sure to keep you updated on the newest movie updates and releases – so if you are interested in anything that happens in Hollywood, you should make sure to stay tuned!
And there you have it guys! We hope you enjoyed the video! If you did please consider leaving a like and telling us what you thought in the comments!
But will Jim be able to make amends for his insulting remarks, or will this confrontation only escalate the feud further?
Watch now to find out!