Why Johnny Depp Was Recast As Grindelwald In Fantastic Beasts 3
Many are still asking why Johnny Depp was recast as Gellert Grindelwald for Fantastic Beasts: The Secrets of Dumbledore. Looking back, the Johnny Depp version of Grindelwald was first introduced in a cameo role at the end of 2016's Fantastic Beasts and Where to Find Them, before the actor went on to star in the sequel, Fantastic Beasts: The Crimes of Grindelwald. WB has long had an ambitious five-movie plan for the franchise, though a combination of controversy and poor box office returns for Fantastic Beasts: The Crimes of Grindelwald and The Secrets of Dumbledore has since thrown this into doubt.
Grindelwald is in Fantastic Beasts 3, at least, but he isn't played by Depp in that movie, nor will he be in any follow-ups should they happen. While once among the biggest movie stars in the world, WB's decision to recast the Johnny Depp Grindelwald character for Fantastic Beasts 3 speaks to the many controversies and legal cases surrounding the actor over the latter part of the 2010s and into the 2020s. In particular, it's the allegations of domestic abuse made by his ex-wife Amber Heard, and the court ruling that followed, which saw Depp exit Fantastic Beasts 3 and Grindelwald recast. However, Depp's presence was controversial since the franchise's beginning.
Related: Fantastic Beasts Fails By Ignoring What Made Harry Potter So Great
Johnny Depp Grindelwald Casting Backlash Explained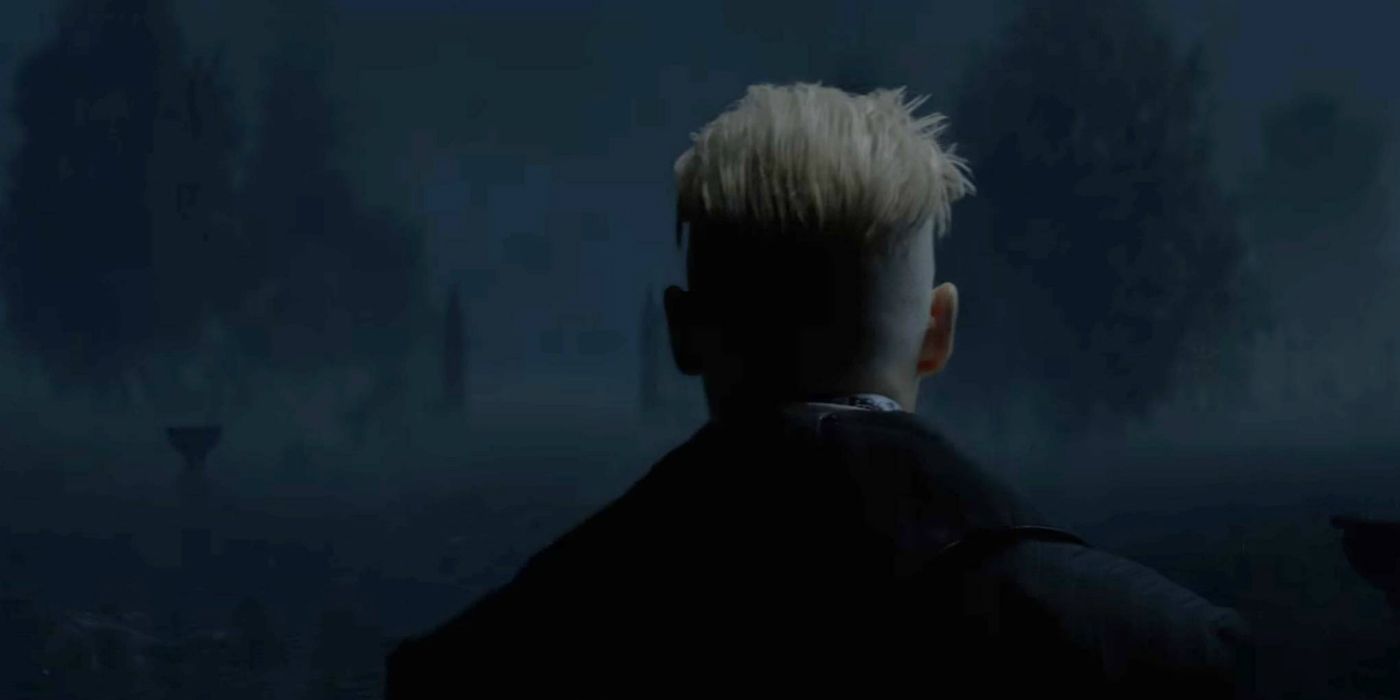 Johnny Depp's casting as Gellert Grindelwald for Fantastic Beasts 2 was announced in November 2020, shortly before the release of the first movie in the franchise. Even then, there was a backlash to the Johnny Depp Grindelwald casting. Amber Heard filed for divorce and took out a temporary restraining order against Depp in May 2020, alleging that the Grindelwald actor had been verbally and physically abusive towards her during their relationship. Because of the allegations around Depp, there were many complaints over his casting in the movie, to the point that J.K. Rowling came out with a statement defending the decision. In a post published in December 2017 on JKRowling.com, the author wrote:
"…Around the time of filming his cameo in the first movie, stories had appeared in the press that deeply concerned me and everyone most closely involved in the franchise. Harry Potter fans had legitimate questions and concerns about our choice to continue with Johnny Depp in the role. As David Yates, long-time Potter director, has already said, we naturally considered the possibility of recasting. I understand why some have been confused and angry about why that didn't happen… Based on our understanding of the circumstances, the filmmakers and I are not only comfortable sticking with our original casting, but genuinely happy to have Johnny playing a major character in the movies."
While WB, Rowling, and director David Yates stuck behind their decision to cast the Johnny Depp Grindelwald character, the backlash only intensified in the lead-up to the second movie's release, especially after it was titled Fantastic Beasts: The Crimes of Grindelwald, ensuring Depp's dark wizard would play a very central role. The discussion of the actor continued to dominate talk about the movie long before and up to its release, with even some talk of a boycott, as reported by Digital Spy – Rowling herself admitted that "there will be those who are not satisfied with our choice of actor in the title role."
Why WB Asked Johnny Depp To Resign From Fantastic Beasts 3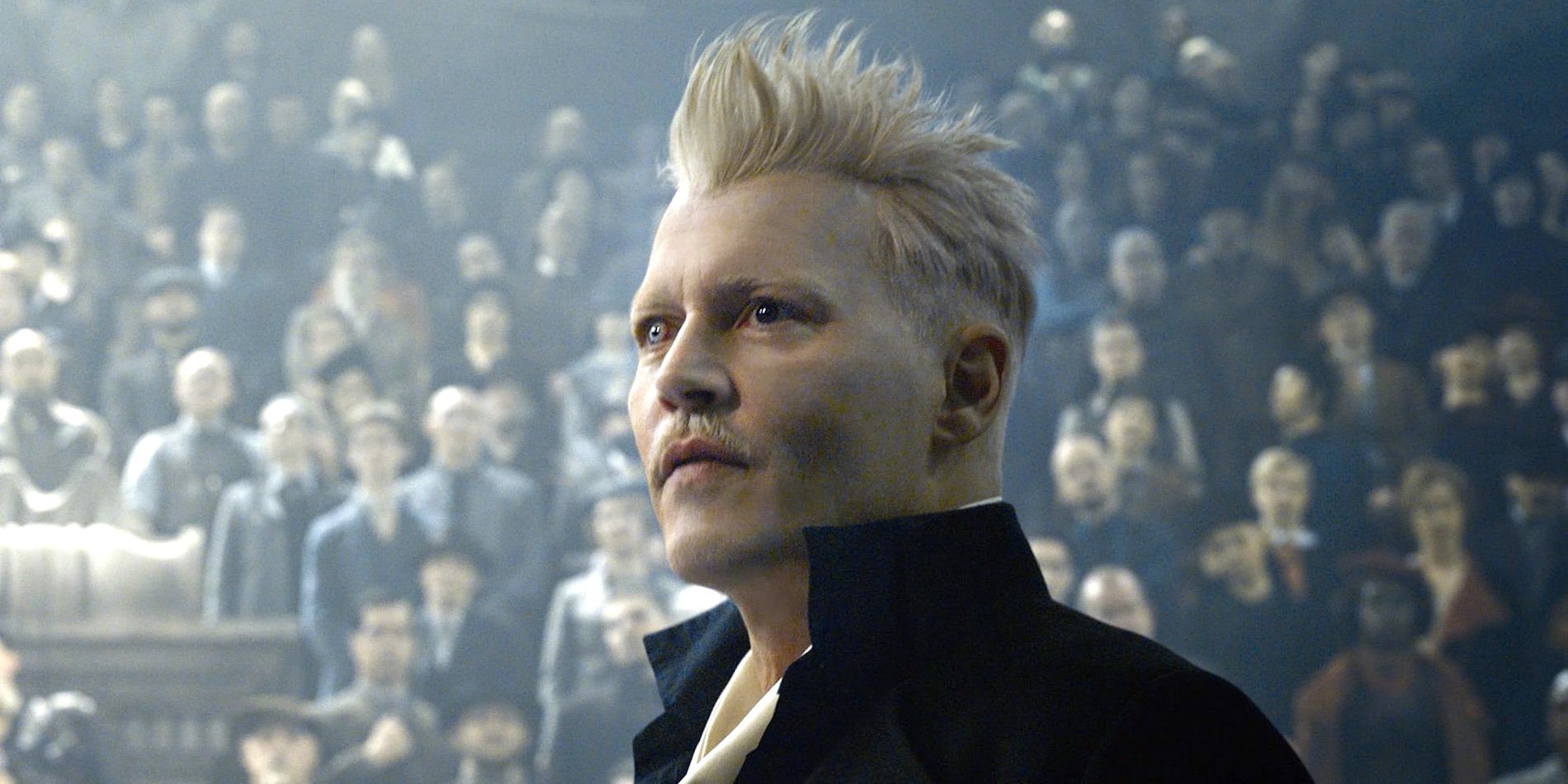 Johnny Depp, who played Grindelwald, and Amber Heard reached a settlement in August 2016 and finalized their divorce in January 2017, but that did not end the controversy surrounding the pair's relationship, nor that of the ongoing Johnny Depp Grindelwald role in the Fantastic Beasts franchise, despite him being confirmed to return for Fantastic Beasts 3. An April 2018 article published by The Sun referred to Depp as a "wife beater," which led to the actor suing the newspaper's parent company, News Group Newspapers (NGN), and The Sun's then-executive editor Dan Wooton, for libel.
The Grindelwald actor claimed that not only were Heard's allegations lies but that she had been the abuser in the relationship and that she had orchestrated a "hoax." Later that same year, it was reported that Warner Bros. had concerns over how Depp's ongoing controversy would impact Fantastic Beasts 3 and the Johnny Depp Grindelwald character, but the actor remained attached to the project all the way through to the beginning of production in September 2020, filming one scene for the movie, before departing in November 2020.
Related: Everything We Know About Fantastic Beasts 4The biggest reason why Depp left as Grindelwald stemmed from the libel lawsuit against NGN. Despite Depp's claims, the court found in favor of NGN and Wooton. Their lawyers presented 14 separate incidents as evidence of abuse from Depp to Heard, and 12 were found to have passed the reasonable civil standard, meaning The Sun's report was found to have "substantial truth." Depp attempted to appeal the verdict but was unsuccessful.
Depp, who played Grindelwald, losing his libel lawsuit created, at the very least, a PR disaster for Warner Bros., as it meant other U.K. publications could refer to him in those same (or similar) terms, and the optics, as well as moral obligations, of keeping him as the Johnny Depp Grindelwald character in Fantastic Beasts 3 were seemingly too much to bear. Depp technically wasn't fired from Fantastic Beasts 3, but he was asked to resign by WB, which he did.
As Variety reported, AT&T's merger with WarnerMedia also likely had an influence. This had already resulted in sweeping changes at WB, and their sources suggested that one major change was "an overall lack of tolerance for the kind of controversy that every major studio has had to weather at one time or another when courting mercurial – but historically popular – talent like Depp."As reported by THR, Depp was still paid his full salary – believed to be $16 million – despite only shooting one scene for the movie, as he had a "pay-or-play" contract, meaning he'd be paid regardless of whether the film happened or not.
What Happened To Johnny Depp After Being Recast
Since leaving and being recast as the Johnny Depp Grindelwald character for Fantastic Beasts 3, his movie roles have largely dried up, with the court case not only finding in the defense's favor of calling him a "wife beater" and proving multiple allegations of domestic abuse true to civil, if not criminal, level, but also detailed years of substance abuse. Depp's only movie roles since leaving are City of Lies, which filmed in 2016 and 2017 but was been pulled from the release schedule in 2018 before eventually releasing in March 2021, and Minamata, which also filmed prior to the verdict in Depp's libel lawsuit and subsequent exit from Fantastic Beasts 3.
Related: Does WB Want You To Forget Fantastic Beasts Even Exists?!Both films were small releases, with a combined box office take of less than $5 million, albeit amidst the Covid-19 pandemic. Depp only has two upcoming projects announced: the animated web series Puffins Impossible, in which he voices a puffin named Johnny Puff, and a role as King Louis XV in an untitled movie from director Maiwenn. In a THR expose, detailing claims of substance abuse, several lawsuits, and bad on-set behavior, he was referred to, much like Will Smith, as "Hollywood persona non grata," reflecting his status as someone on the outside studios are reluctant to work with, citing a studio source saying, "You simply can't work with him now. He's radioactive."
Outside of the Johnny Depp Grindelwald character, Depp had reportedly been attached to a Harry Houdini TV show, led by producer Jerry Bruckheimer (with whom he worked on the Pirates of the Caribbean movies), but he is no longer involved. Likewise, Disney had already started to move on from Depp in Pirates of the Caribbean, with a once-planned Margot Robbie-led reboot, despite a petition for Depp's Jack Sparrow to return. The actor, however, continues to remain the face of Dior's Sauvage fragrance line.
The story between Depp and Heard might have come to an end after Depp sued Heard for defamation. This $50 million defamation suit Depp filed after Heard wrote an article in The Washington Post in 2018, headlined, "I spoke up against sexual violence — and faced our culture's wrath. That has to change." Depp wasn't directly mentioned, but the actor claims it severely damaged his reputation, with Heard then launching her own countersuit. The trial was then delayed several times, but it began in April 2022, the same week as Fantastic Beasts: The Secrets of Dumbledore released in theaters.
Who Replaced Johnny Depp As Grindelwald In Fantastic Beasts 3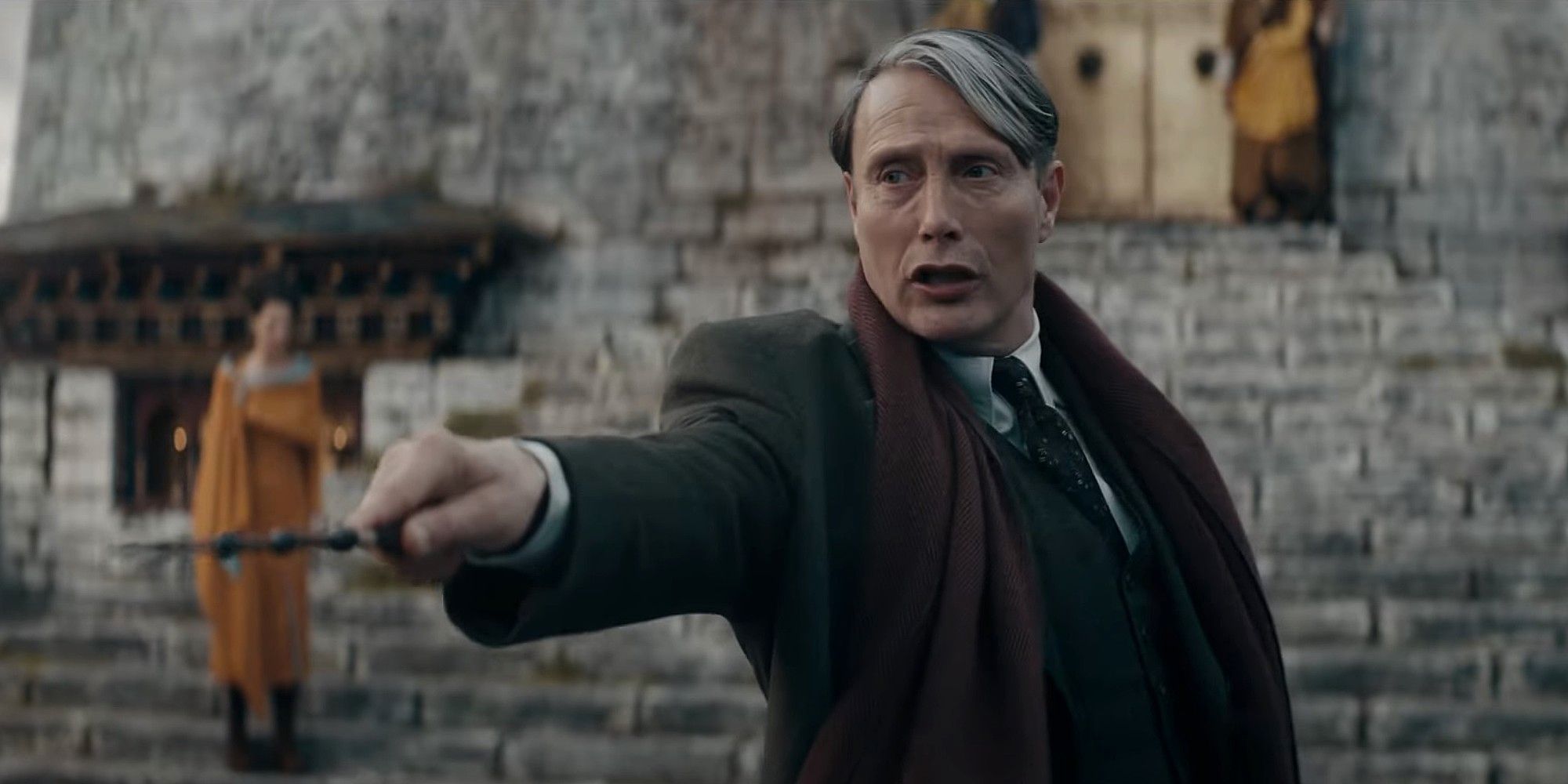 Mads Mikkelsen replaced the Depp Grindelwald character for Fantastic Beasts 3, with the official casting confirmed in late November 2020. The Grindelwald actor is best known for playing the titular role in NBC's Hannibal, as well as portraying Galen Erso in Rogue One: A Star Wars Story and Kaecilius in Doctor Strange. Mikkelsen, who plays Grindelwald, was almost immediately touted as one of the front-runners and he did eventually come to an agreement to take over the part. After being cast as Grindelwald in Fantastic Beasts 3, Mikkelsen said he'd wanted to speak to Depp about replacing him but "didn't know him in that sense." On the same topic, Mikkelsen added:
"I know it was controversial for many people, but that's just the way it plays out once in a while. I didn't want to copy what Johnny had done. I think he's a masterful actor, so copying him would've been creative suicide. I had to figure out something that was definitely my own, and yet also act as a bridge to what he had done. My take is different, and the look is a little different."
Related: Fantastic Beasts 4 Still Has Big Problems To Fix (Despite FB3 Improving)
Mikkelsen, who plays Grindelwald, does look different in Fantastic Beasts: The Secrets of Dumbledore, with the shock white hair mostly gone — save for one white stripe — and the different colored eyes seemingly changed as well, meaning his version is clearly distinct from what came before, as WB and Fantastic Beasts looks to move on from the original Johnny Depp Grindelwald character.
Mads Mikkelsen Thinks Johnny Depp Might Return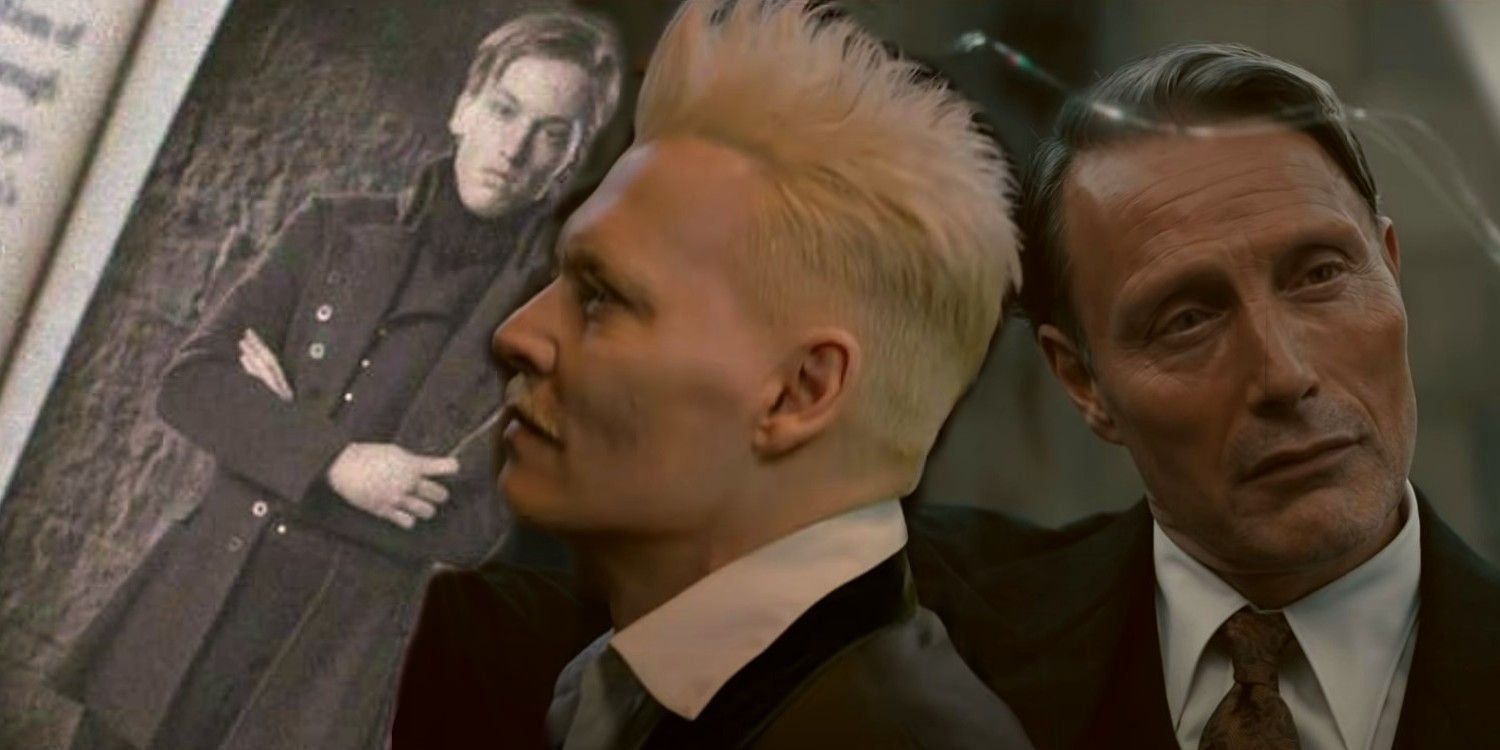 Mads Mikkelsen played the role of Gellert Grindelwald with aplomb, and his performance is one of the highlights of the third Fantastic Beasts film. However, the actor thinks it is possible for the Johnny Depp Grindelwald character to make a return since winning his defamation case. While at a festival to win the Honorary Heart of Saravejo award, he spoke during the "Coffee With…" event about taking over the role — and the possibility of Johnny Depp's return, saying, "Obviously, well, now the course has changed—he won the suit, the court [case]—so let's see if he comes back. He might. I'm a big fan of Johnny. I think he's an amazing actor, I think he did a fantastic job."
However, this might not be the right choice for Warner Bros. Since the Johnny Depp Grindelwald character has already been recast once, people have now been forced to get used to Mads Mikkelsen's portrayal of the character. Despite the controversy surrounding Depp being resolved (for now), it doesn't mean that he'll be allowed to return as Grindelwald. After all, Mikkelsen's performance was highly praised and many thought he was a better fit for the part. Despite the Hannibal actor's statements, Depp will most likely not return to reprise his role as Grindelwald, and it's arguably for the better.
Recasting Grindelwald Didn't Help Fantastic Beasts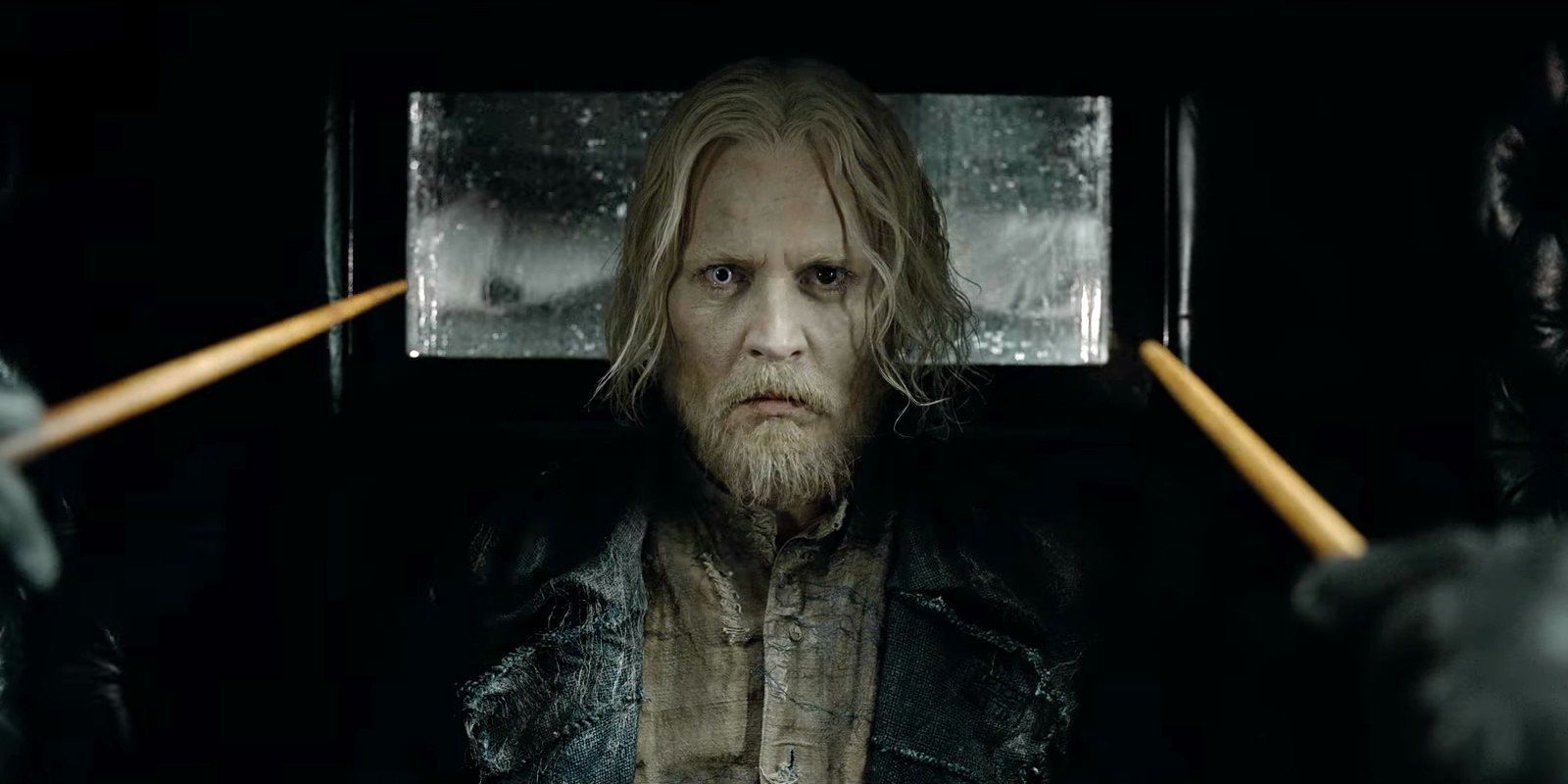 While Fantastic Beasts: The Secrets of Dumbledore did do better than its predecessor, The Crimes of Grindelwald, it still received middling reviews and had a rough go at making back its budget. On Rotten Tomatoes, the critics' score is a measly 46%, meaning it's certified rotten. However, it did perform a little better amongst audiences, raking in an 83% score. On its opening weekend, the movie only made $42.1 million, a far cry from the film's $200 million budget. Sadly, despite Mads Mikkelsen's performance being critically successful, it wasn't enough to save Fantastic Beasts 3.
Related: Fantastic Beasts Set Up A Deathly Hallows Story (But Missed Its Chance)However, The Secrets of Dumbledore was able to make back its money when one considers the numbers from its worldwide release, which come in at $405.1 million. Either way, this is the second box office bungle that the Fantastic Beasts franchise has now made, with its predecessor being regarded as one of the worst Harry Potter franchise films of all time. The third movie ended with a duel between Grindelwald and Dumbledore, though it's certainly not the duel of legend.
However, studios may be using this instance as an out if they are forced to abandon the movie series, and Fantastic Beasts 4 may not come to fruition. Couple that with the fact that director David Yates is slated to make something else in the near future, and it looks like Fantastic Beasts 4's chances of being made are slim.
Grindelwald Wasn't The Only Recast Wizarding World Villain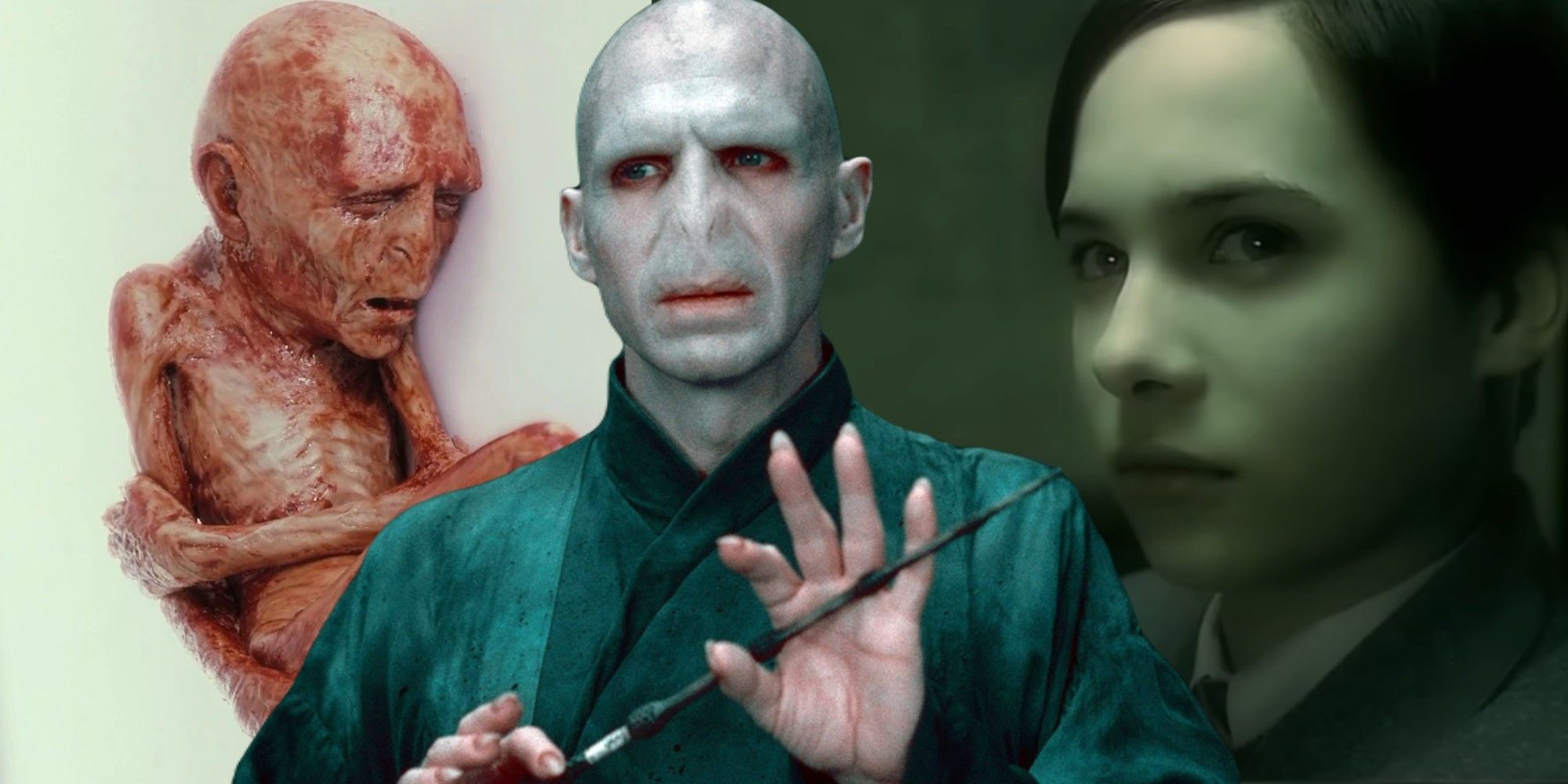 The Johnny Depp Grindelwald character wasn't the only Wizarding World villain to undergo a recast, as the character of Voldemort from Harry Potter has been played by five separate actors. While some of these actors are used to represent You-Know-Who in different stages of life, the adult Voldemort was the one who faced a major recast after Harry Potter and the Sorcerer's Stone. When Voldemort was possessing Quirrell's body — and living out of the back of his head — he was played by veteran British actor Richard Bremmer, who is known for The 13th Warrior, Shanghai Nights, and Mr. Turner.
Voldemort became flesh in Goblet of Fire, and a different actor was decidedly cast in the role. That honor went to powerhouse actor, Ralph Fiennes. Fiennes stayed on as Voldemort in his final form for the remaining four Harry Potter movies and truly made the villain his own. Fiennes is known most recently for The Menu. Other actors that played Voldemort include Tom Riddle for Chamber of Secrets, played by Christian Coulson, Hero Fiennes-Tiffin as child Tom Riddle (Half-Blood Prince), and Frank Dillane as teen Riddle (Half-Blood Prince). So, Johnny Depp wasn't the only actor to face a recast, but Fantastic Beasts: The Secrets of Dumbledore turned out better for it.
Next: All Harry Potter & Fantastic Beasts Movies Ranked Worst To Best
Key Release Dates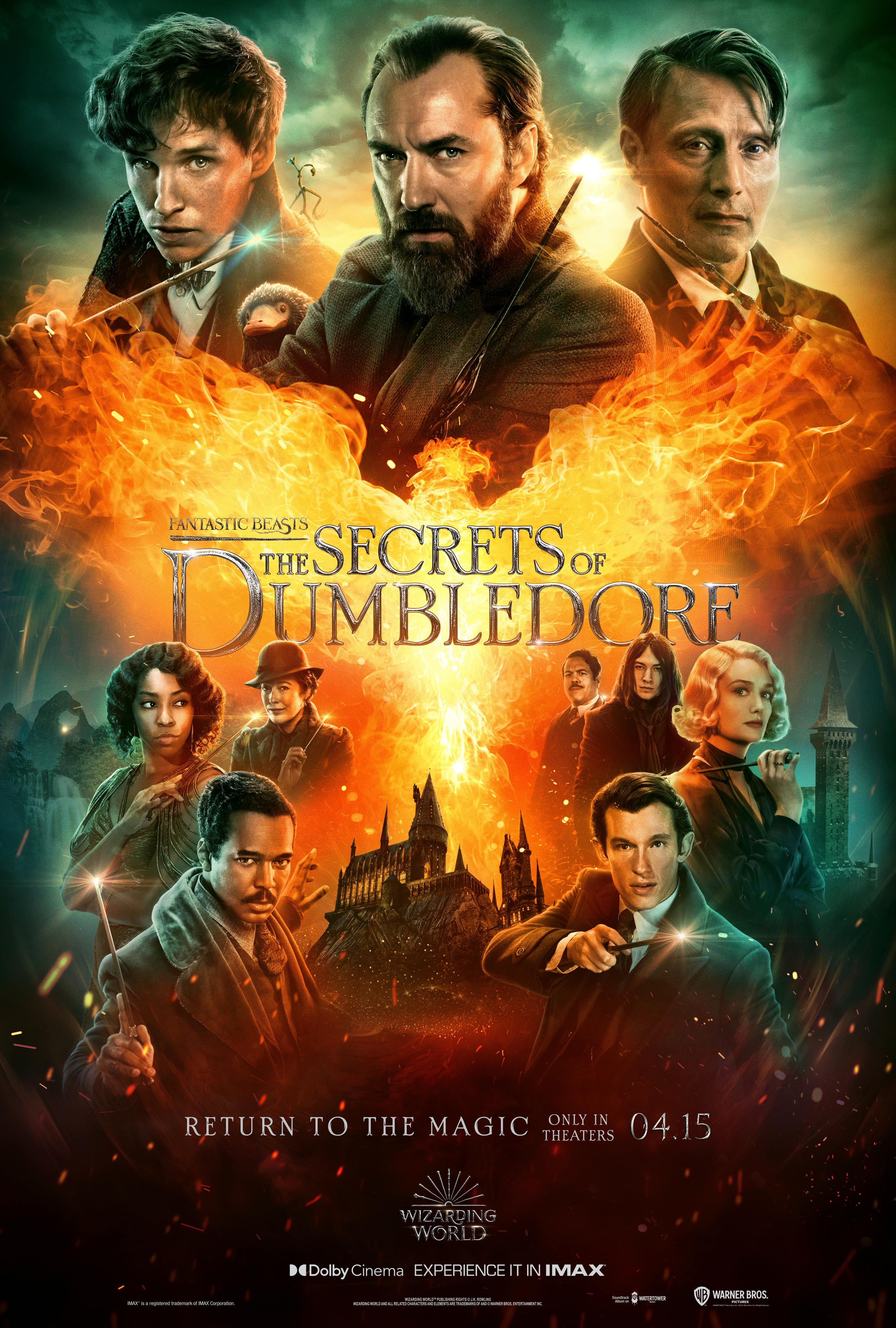 Fantastic Beasts: The Secrets of Dumbledore
'I am officially off the market': When Margot Robbie revealed she made the 'conscious' decision of not dating actors

Margot Robbie revealed her decision to not date actors because of the media scrutiny that came with a public relationship of two high-profile actors
Back in 2015, A-lister Margot Robbie made a declaration that she would not be dating any actors. The actress may have alluded to her fiance Tom Ackerley, who she married the following year in 2016. In an exclusive interview with Marie Claire, she revealed that being in a relationship as an actor herself came with its own set of challenges. She believed that dating someone who was popular would add on to the media scrutiny.
Margot Robbie opened up on why she made a conscious decision to not date actorsTalking to Marie Claire, she claimed, "I am officially off the market." She then shared the reasoning behind her decision and added, "I made a conscious decision not to date actors." She continued to explain, "But not because I hate actors. That's a nasty generalization to make, and that's not the case. People take such an interest in your love life when you have a profile, it puts a lot of stress on a relationship."
The Barbie actress continued, "So two people with profiles, I figure it's just double the amount of scrutiny, and I'd like to avoid that at all costs." This came after reports of her locking lips with Tarzan co-star Alexander Skarsgard started making rounds. It was reported that she was caught kissing the actor during the Sundance Film Festival.
Margot Robbie revealed she opted for a minimal lifestyle even after becoming an actorIn the interview, Robbie also opened up about how she was adapting to fame. She shared, "I have a normal 24-year-old life. If I were a waitress, I'd probably have the exact same lifestyle. I'd go to the same clubs I go to already, live in the same house with the same housemates, hang out with the same people."
However, Margot Robbie tied the knot with Tom Ackerley who is an English producer and actor. The duo met on the sets of 2013 movie Suite Francaise where Tom was working as an assistant director. Post marriage, both of them launched their production company LuckyChap Entertainment.
Post navigation
Monica Bellucci and Tin Burton at lunch in the restaurant in Selci Lama

For All Saints' Day, the Hollywood star from Tiferno returned to his native Umbria to enjoy a moment of relaxation and then visit his parentsOn the occasion of the All Saints' Day celebrations, the Hollywood star of Tiferno origin, Monica Bellucci, returned to her native Umbria to enjoy a moment of relaxation and to visit her father Pasquale and her mother Brunella.Flanked by her current partner Tim Burton, she went to lunch, together with about twenty old friends, at the Osteria del Musicista, which has always been her favorite restaurant, in Selci Lama.Menu dedicated to typical dishes of the area, which includes an appetizer with breadsticks lined with coppa, duck in porchetta and grilled pork livers, polenta with wild boar sauce accompanied by the very typical cappelletti in broth.To conclude, a dessert based on fried "ciaccia" with Nutella and roasted chestnuts.
Having paid the bill and greeted the restaurant owner and lifelong friend, Roberto Polchi, Monica brought home cappelletti and broth for a family dinner.
Post navigation
'Rocky' Was Quite Different In His Original Screenplay, Sylvester Stallone Claims

Sylvester Stallone took his friend's advice on a rewrite of the original screenplay to Rocky. A few tweaks later, he was on his way to major success.
In the new Netflix documentary Sly, Stallone discussed how he initially conceived of the project, which had a much harder edge. In the early version, Rocky was depicted as a "thuggish" character, inspired by Martin Scorsese's crime drama, Mean Streets.
But Stallone's perspective changed when a friend read the script and thought the boxer was too cruel for audiences to actually care about him.
Stallone recalled her crying.
"She goes, 'I hate Rocky. I hate him. He's cruel. He hits people. He beats them up.'"
Stallone took it to heart, and asked what he could do to soften the character.
"I said, 'what if you stop short of it?' Like, maybe he almost did. He could have, that's his job, but he doesn't?' 'That'd be nice,'" he added. "I said, 'What if he had a girlfriend or something?' 'Yeah, that's nice.' So I go back, start writing that: 'Girlfriend. Nice.'"
$117 million in box office later, a franchise was born.
Stallone also revealed that actor Dolph Lundgren sent him to the hospital during one fight scene in Rocky IV.
"Dolph Lundgren… he pulverized me," Stallone says in the documentary. "Later that night, my heart started to swell—which happens when the heart hits the chest—and then my blood pressure went up to 260, and they thought I was going to be talking to angels. Next thing I know, I'm in intensive care, where I'm surrounded by nuns, and I thought, 'OK, that's curtains.'"
Stallone was in the hospital for nine days following the incident, praying for "one more round."
"For the first minute of the fight, it is going to be a free-for-all," Stallone told Lundgren. The Swedish actor joked in a separate interview that all he did was "obey orders," explaining, "[Stallone] was the boss. I did what he told me."
Doctors allegedly told Stallone that he received a blow to the ribs that made his heart rattle around in his ribcage, a condition typically seen in head-on collisions. "I did hit a bus, of sorts," Stallone joked.
Post navigation