The Most Underrated Action Movies of the 1990s, Ranked
One of the most happening periods of the last century was the '90s. During this magical decade, we saw everything from the internet revolution to incredible technological advancements to new music genres being introduced, like grunge and ska. Plus, it's considered to be one of the golden periods for action movies.
Updated July 9, 2023: To keep this article fresh and relevant by adding more information and entries, this article has been updated by Gaurav Krishnan.
The '90s brought us everything from Bad Boys to The Matrix to GoldenEye, films that pushed the bombast and spectacle of '80s action movies even further. But not every film could be as popular as these classics. There were other equally great releases that aren't remembered quite so fondly. So, to give them the love they deserve, let's take a look at the most underrated action movies of the '90s, ranked.
15 Under Siege (1992)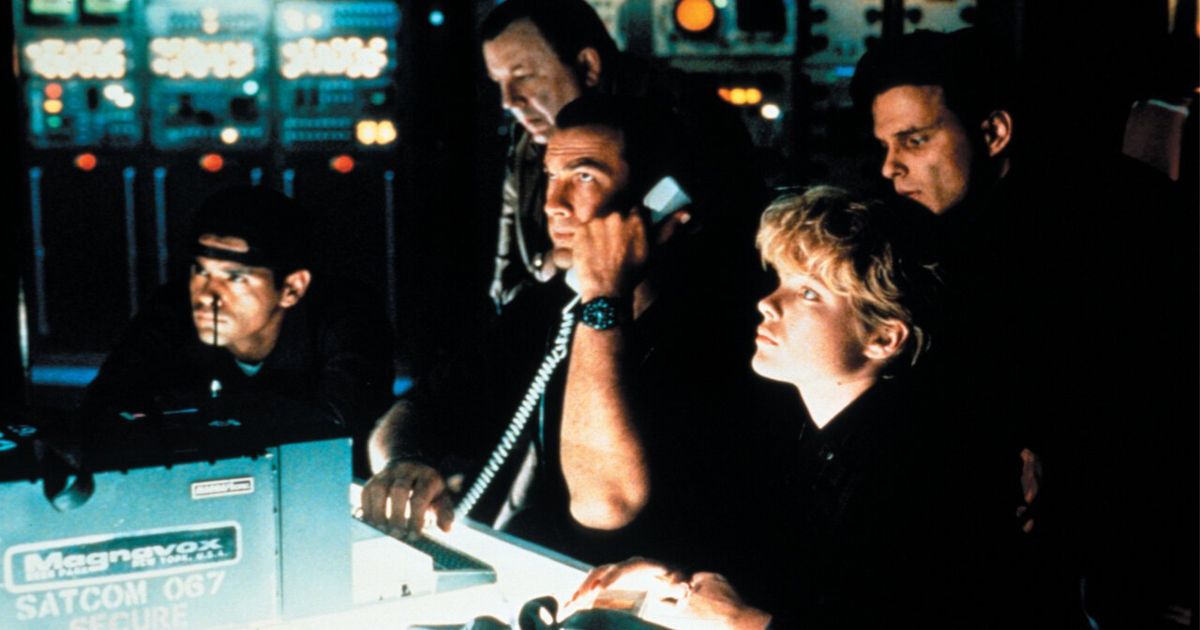 Warner Bros.
Steven Seagal movies are infamous for being either so bad they're good or so bad they're bad. Under Siege breaks this mold by being a very solid action thriller. Seagal plays the lead as Casey Ryback, a former Navy Seal who finds himself battling a group of hardened mercenaries. Tommy Lee Jones and Gary Busey round out the cast as mercenaries, and each performance is memorable in its own right. With all the bad press Seagal has gotten in recent years, it's worth returning to this underrated film to see what made him a star in the first place.
14 Air Force One (1997)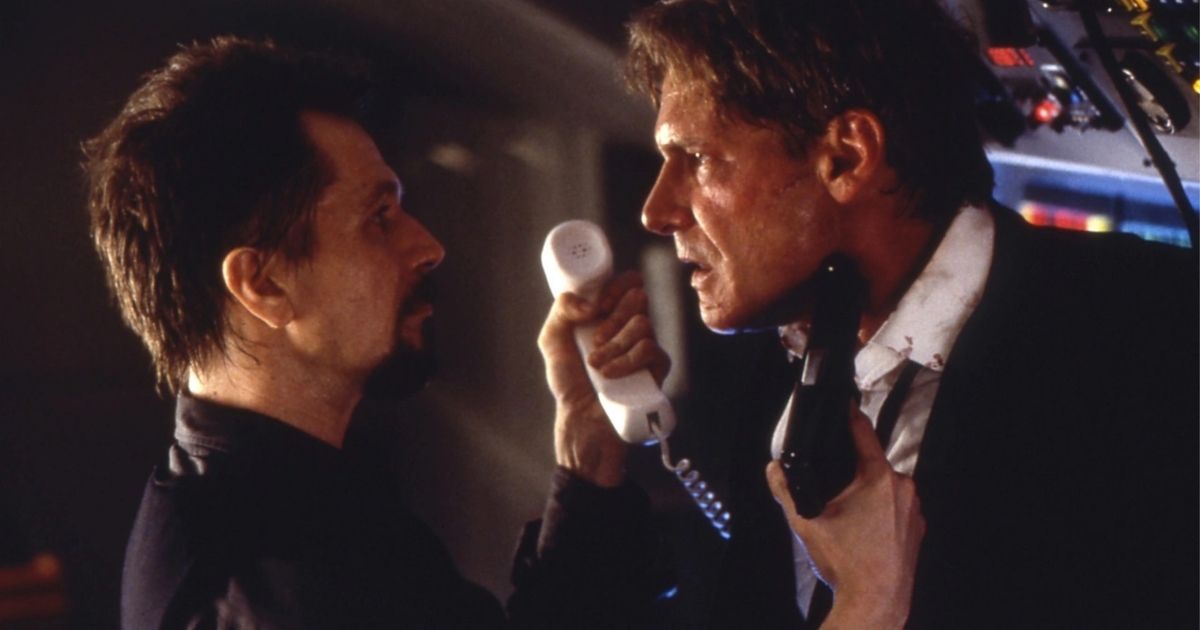 Sony Pictures
Harrison Ford delights and puts in a noteworthy performance as the all-action President of the United States who single-handedly saves his plane, Air Force One, from a terrorist hijacking. Although the film Air Force One is based on a rather novel concept, Ford does a fantastic job in his role, and the cinematography and action scenes are also astutely executed, considering it all takes place on a plane.
Director Wolfgang Peterson manages to keep audiences guessing and engrossed by the suspense and tension in most of the action sequences and pulls it off rather eloquently. It may be a somewhat tacky concept, but it manages to do its job in keeping viewers enthralled and is a film that could be described as an archetypal '90s action film that's worth a watch.
13 The Rock (1996)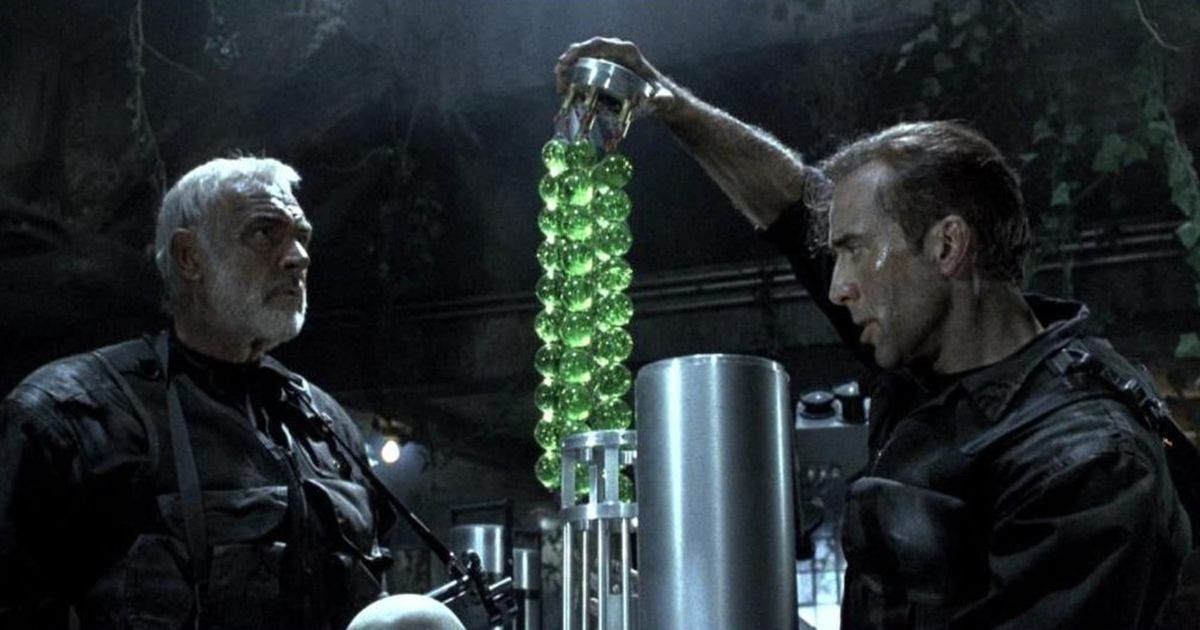 Buena Vista Pictures
Directed by Michael Bay, The Rock has an all-star cast comprising the likes of Sean Connery, Nicolas Cage and Ed Harris in what is a quintessential classic action film from the '90s. With the looming threat of unleashing nerve gas on San Francisco, John Mason (Sean Connery) and Stanley Goodspeed (Nicolas Cage) have to infiltrate Alcatraz Island to stop General Francis Hummel (Ed Harris) and his team of mercenaries in their mission of detonating the chemical weapons.
With an intriguing plot having its share of surprises and expertly depicted action sequences, the film grossed $335.6 million after its release and was the fourth-highest-grossing film of 1996. The film received mixed reviews from critics, but considering its box office performance and success, it's surely an underrated action movie from the '90s that might not get the credit it deserves.
12 Total Recall (1990)
Tri-Star Pictures
Total Recall is set in the year 2084. The film tells the story of a man named Douglas Quaid, who is living in a world where humanity has colonized Mars, and is having recurring dreams about having a romantic dalliance with a mysterious woman on Mars. Quaid, who becomes obsessed with Mars, decides to move there, but because of his wife's opposition, he instead reaches out to a company that can implant false memories for people who can't afford to visit Mars. The process goes wrong midway, and it is revealed to Quaid that everything in his life has been nothing but a big false memory, including his wife.
Total Recall, which is based on the short-story "We Can Remember It for You Wholesale" by Philip K. Dick, won an Academy Award for Best Visual Effects and is now considered to be a classic. The film was remade in 2012, but it's hard to stand up to the original.
11 Eraser (1996)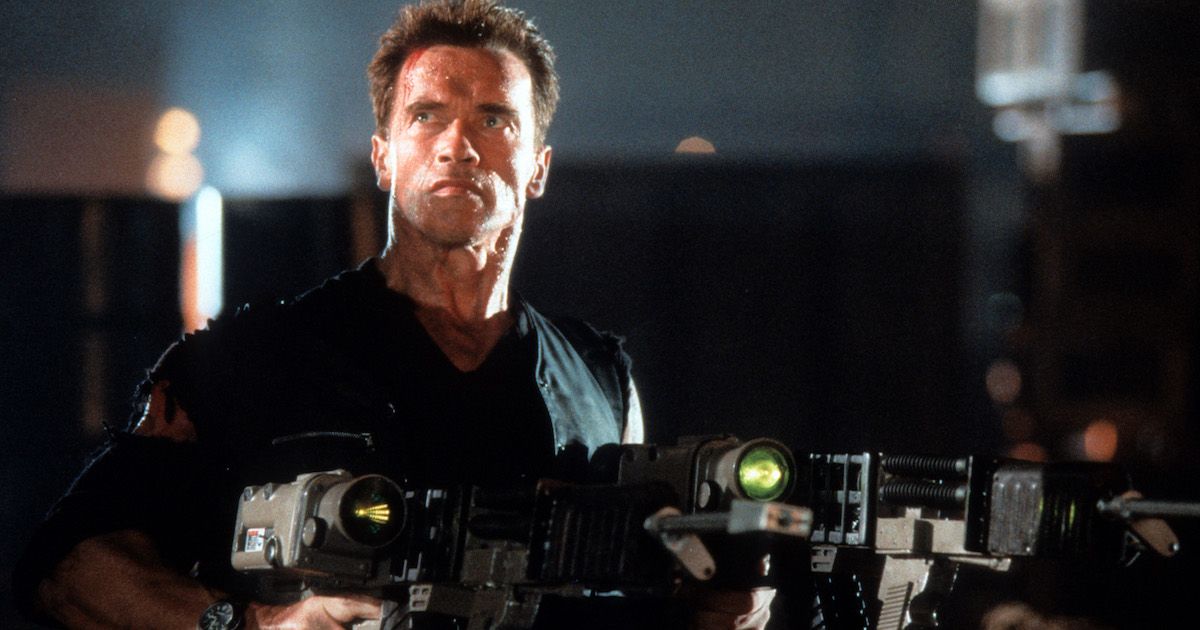 Warner Bros. Pictures
Though it's certainly been overshadowed by Arnold Schwarzenegger's other work during the '90s, Eraser is a very solid action thriller with just the right amount of cheese. If Schwarzenegger isn't enough to draw you in; it's got political turmoil, espionage, and really cool guns (electromagnetic rifles, to be specific). The admittedly drab storyline is peppered with special effects-heavy shoot-'em-up action, which is the real star of the show here. And though you wouldn't expect it from the synopsis, there are alligators involved, too.
10 Tomorrow Never Dies (1997)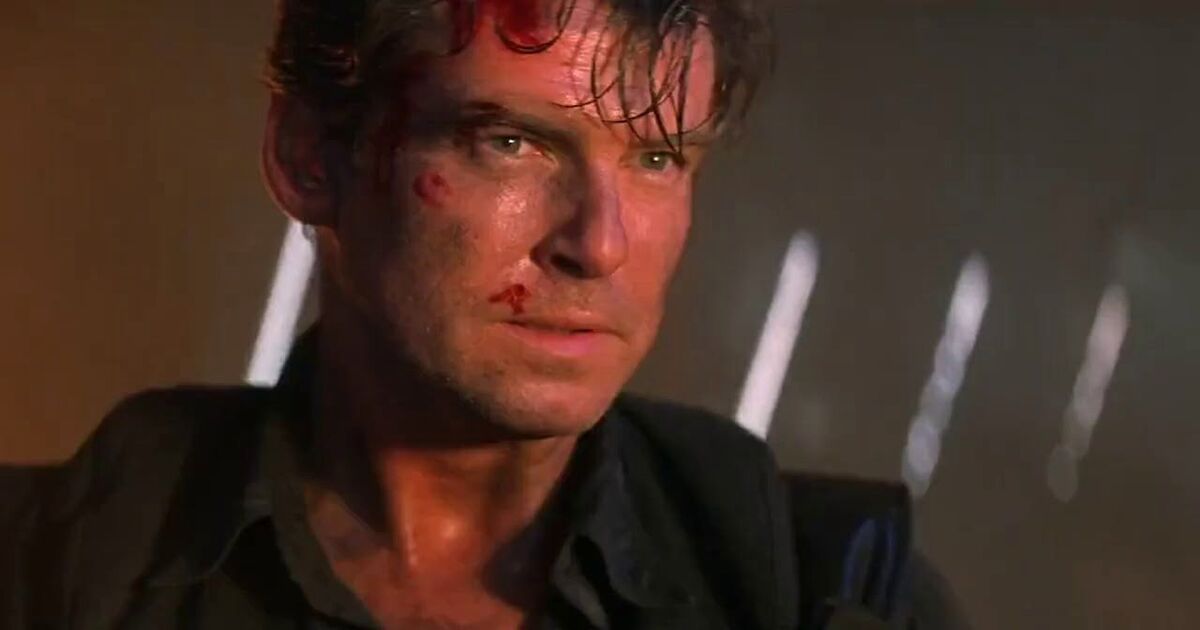 MGM/UA Entertainment Co.
Tomorrow Never Dies follows the story of a media mogul Elliot Carver, who wants to expand his business to China and become a global media giant. When the government of China refuses, he obtains an encoder from the terrorist arms bazaar. With this encoder, he tricks a British navy ship carrying a nuclear warhead into believing that it's in international waters, while in reality they are Chinese waters. After tricking the ship, Carver attacks and steals its nuclear warhead. To investigate the issue, the British government sends James Bond while the Chinese government sends agent Wai Len.
When Tomorrow Never Dies was released, it received mixed reviews, with most of them being average. Now it is considered to be one of the most underrated action movies of all time. While it typically gets overshadowed by GoldenEye, Tomorrow Never Dies is a fun entry in the 007 film series.
9 Mortal Kombat (1995)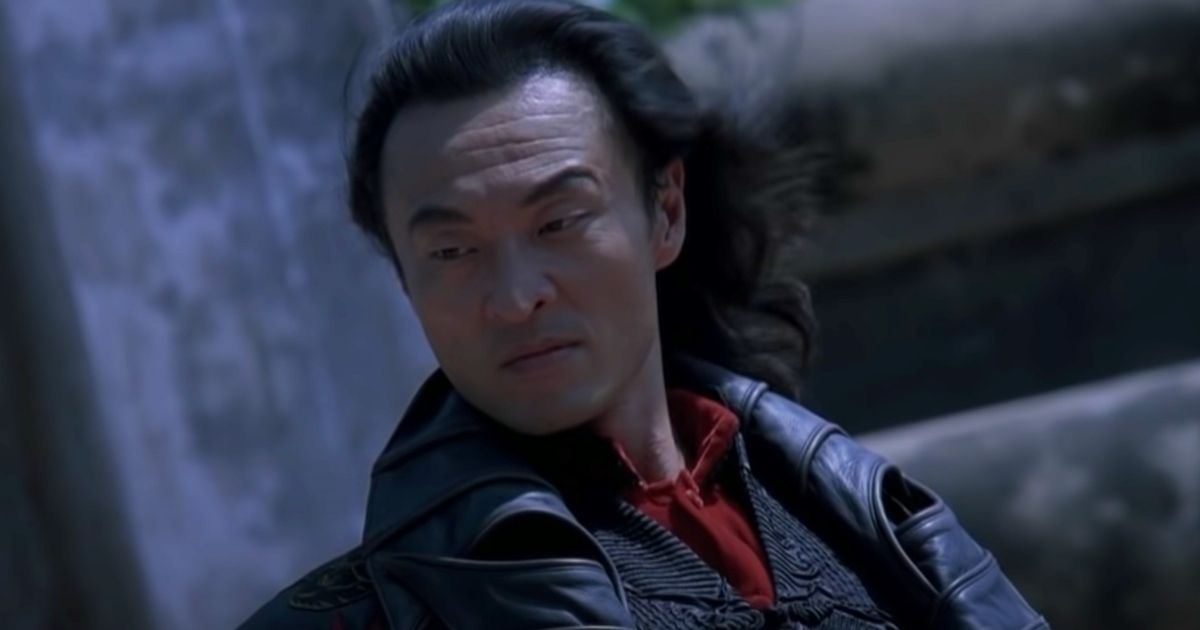 New Line Cinema
There are those who will tell you that video game adaptation cannot be good. To that, we counter with Paul W.S. Anderson's Mortal Kombat from 1995. Released the same year as the third installment in the Mortal Kombat game franchise, this movie brings a sense of campy fun to the series.
Related: How the Mortal Kombat Revival Botched the Surrogate Character
While it would be hard to argue that the film's acting or special effects are any good, it makes up for it in color, fight choreography, and the best kind of cheesy dialogue. It captures the spirit, if not the brutality, of the Mortal Kombat games, which is just about the best thing an adaptation can do.
8 Supercop (1992)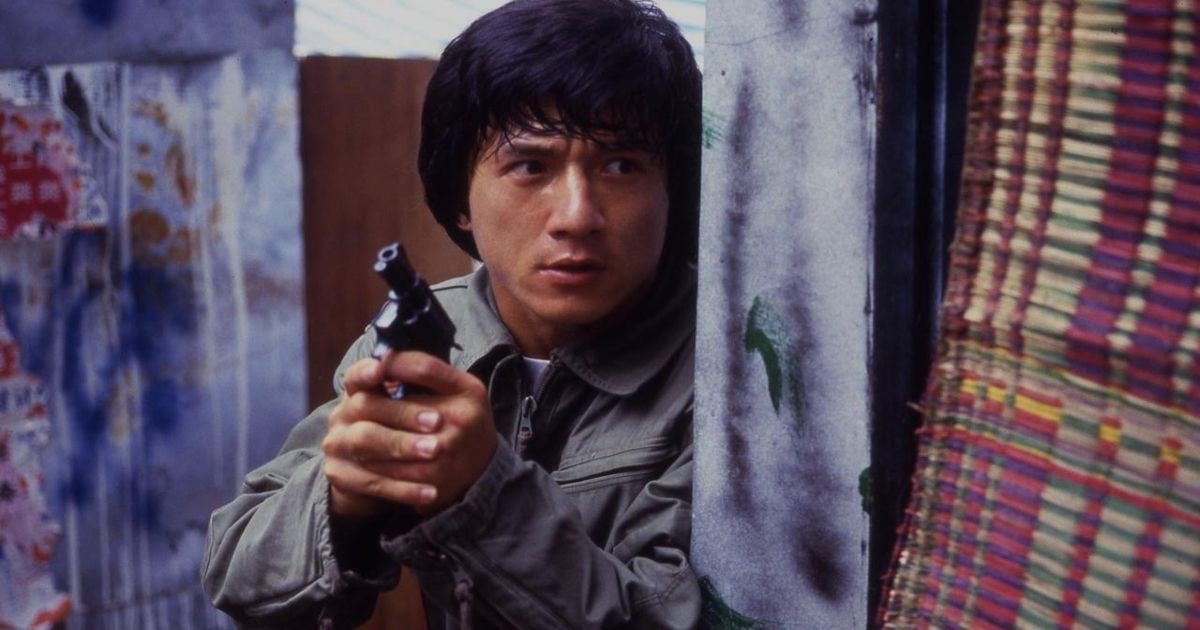 Media Asia Releasing
Supercop follows the story of a detective, Chan Ka-kui (Jackie Chan), who goes undercover in a Chinese prison to win the trust of a drug lord by helping one of his underlings escape. Chan later goes to Hong Kong to join the gang, along with his fellow inspector, Jessica Yang (Michelle Yeoh). This movie is filled with intense action scenes and all the stunts shown were performed by Jackie Chan himself. A spinoff for Supercop was released in the year 1993, and the film also went on to influence the final mission of GTA San Andreas. Despite having a rating of only 6.9 on IMDB, it's a great action thriller and one of Chan's best.
7 Demolition Man (1993)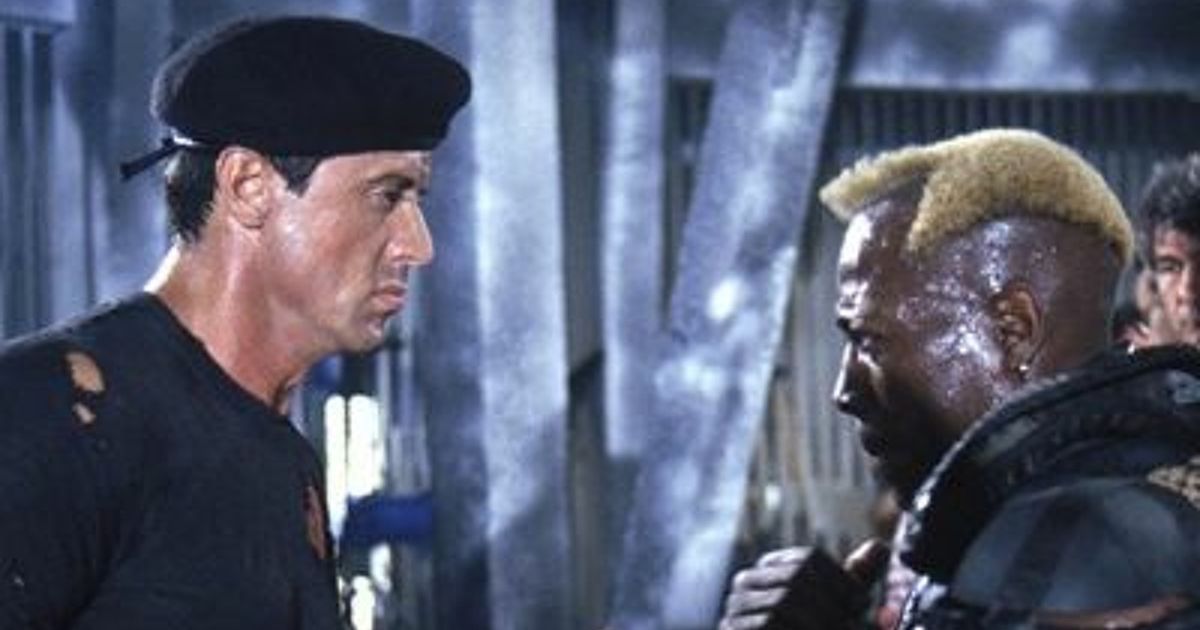 Warner Bros.
Directed by Marco Brambilla, Demolition Man is a story about an LAPD police officer, Jack Spartan (played by Sylvester Stallone), who is nicknamed "Demolition Man" because of the destruction he creates while catching the criminals. The movie starts with him trying to catch the infamous criminal Simon Phoenix, and that pursuit ends up with casualties. Because of those causalities, both Jack & Phoenix are ordered to serve lengthy sentences in prison in which all convicts are cryogenically frozen. Time flies, and Los Angeles, San Diego, & Santa Barbara cities are combined into one big city called "San Angeles", which is free of violent crime. Phoenix wakes up, somehow escapes the prison, and goes on a murder spree.
Because the officers don't have any experience dealing with violent crimes, Lieutenant Lenina Huxley convinces the officers to wake up Jack Spartan and ask for his help. Even though Demolition Man did not win any major awards and received highly negative reviews from critics at launch, it is now considered by many as one of the cult classic action movies of all time. Seeing Stallone and Wesley Snipes together on screen, it's easy to see why it holds the reputation it does.
6 Point of No Return (1993)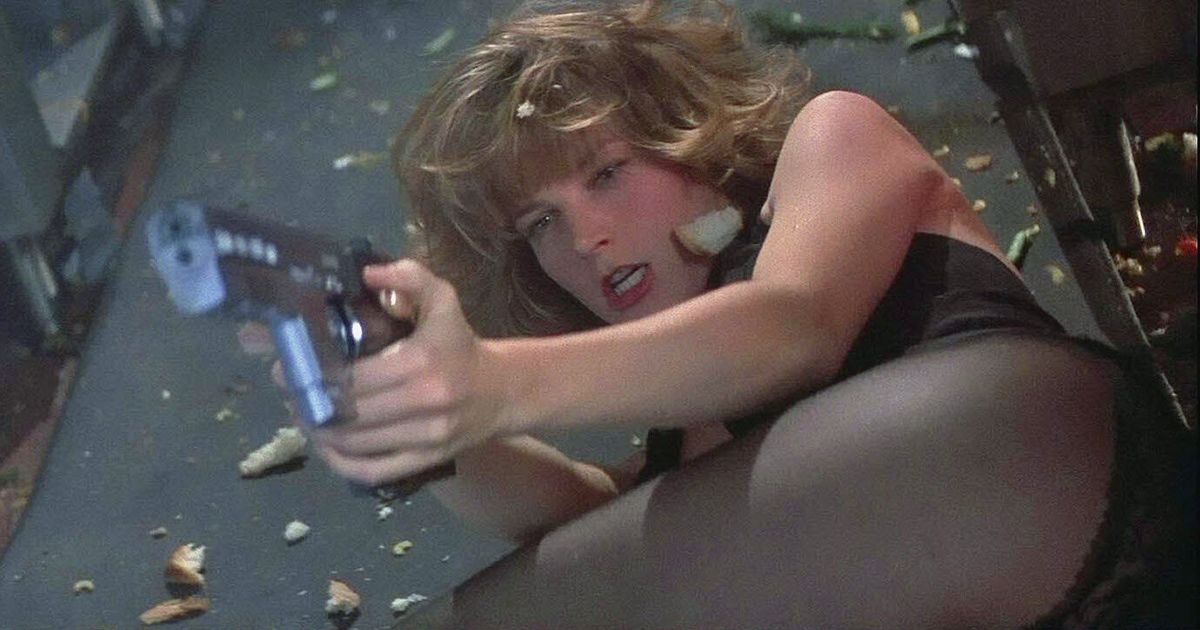 Warner Bros.
Directed by John Badham, Point of No Return is a story about drug addict Maggie Hayward, who is convicted of murdering a police officer during a robbery, and is sentenced to death. When the time for her execution approaches, her death is faked by the authorities, and she is informed by a spy named Bob that she has to work for him. She agrees and her training starts. After some time, she gets into a relationship with a guy who is unaware of her work as a secret agent.
After falling in love with him, she decides to quit her job as a spy. Bob tells her that he'll let her quit the job – if she agrees to do just one more task for him. Point of No Return, a remake of Luc Besson's French movie La Femme Nikita, also includes a score by Academy Award-winning legendary composer Hans Zimmer. The film is worth your time for this alone.
5 Die Hard with a Vengeance (1995)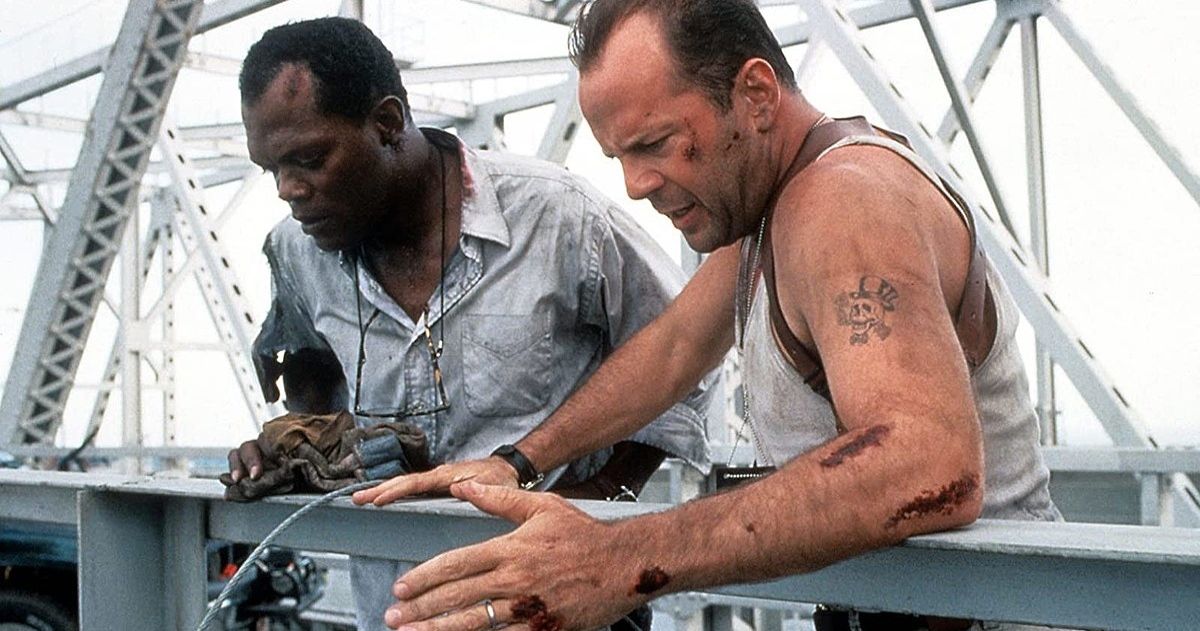 Cinergi Pictures
Bruce Willis returned in his iconic role as cop John McClane in Die Hard with a Vengeance. The third installment of the popular franchise sees McClane scouring the New York City streets along with Zeus Carver (Samuel L. Jackson) to find the terrorist responsible for the blasts in the city. It turns out that the mystery caller named Simon who puts McClane up to the myriad tasks is Simon Peter Gruber, the brother of Hans Gruber, the latter of whom McClane killed in the original Die Hard movie.
While the Die Hard series of films remain fan favorites, Die Hard with A Vengeance is arguably the most compelling yet most undervalued film out of all the Die Hard movies which is rather surprising considering the film's plot, storyline and execution. With an evolving and innovative plot that leaves audiences gripped, and some remarkable performances from the cast, the film remains an underrated classic action film from the '90s.
4 Blade (1998)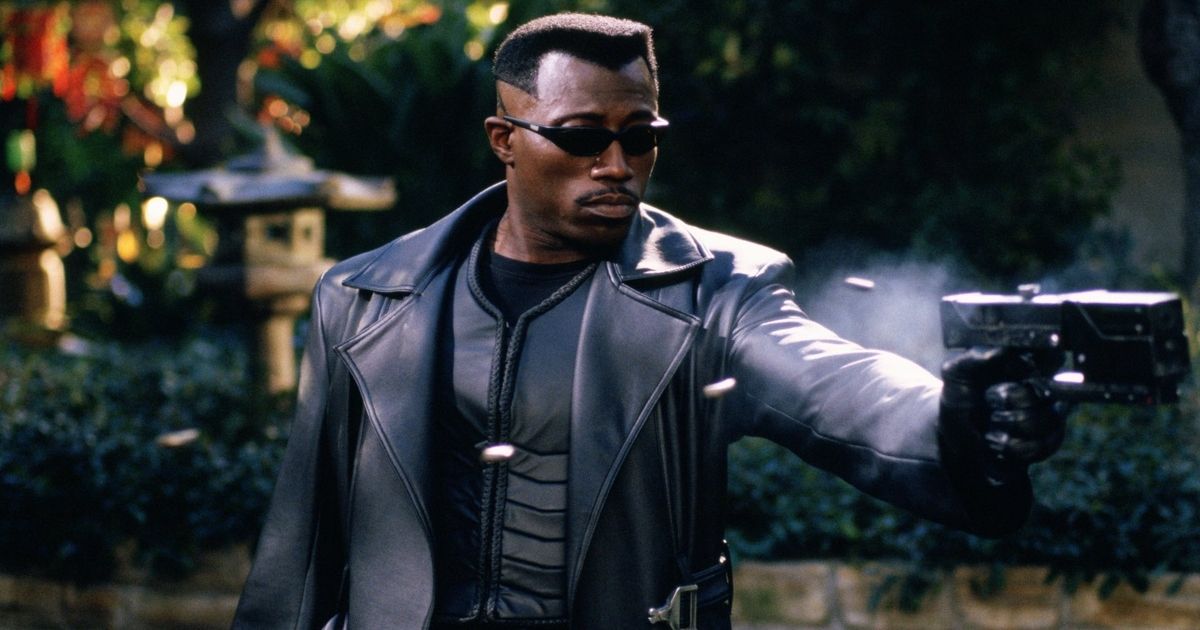 New Line Cinema
Blade is not only an underrated action film but an underrated piece of the superhero genre. While X-Men and Spider-Man typically get the credit for relaunching audiences' excitement in comic book-based movies, Blade was three thirteen months after Batman & Robin and showed that the genre still had plenty of life left in it. The film follows Blade, half human-half vampire hybrid, as he is on a quest to kill vampire Deacon Frost before he can summon an ancient blood god that will destroy the human race.
Related: The Blade Trilogy: Tradition vs Modernism
Blade featured martial arts action that was very different from what most big-budget action films were going for at the time. It would be overshadowed a couple of months later by The Matrix, but before then, Blade was doing wirework, martial arts, and fast-paced gun-fu in black leather before Neo and Trinity. Blade led to a trilogy, and audiences are now eagerly awaiting the MCU reboot.
3 Hard Boiled (1992)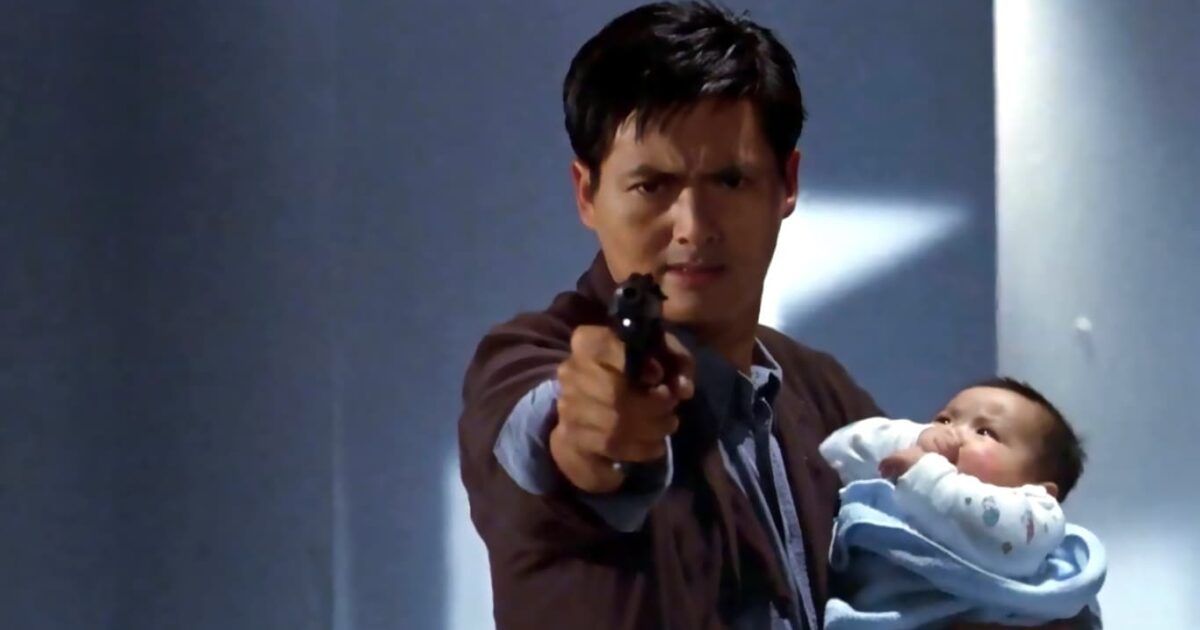 Golden Princess Film Production
Hard Boiled is a Hong Kong action film that follows the story of a police officer, Tequila Yuen, whose work partner, Benny Mak, gets killed by gun smugglers. Tequila executes the gunman who killed Benny instead of arresting him, and because of this he is ordered off the case. Still, Yuen is determined to take the whole gang down, and he joins forces with gangster hitman Alan, who is revealed to be an undercover cop as well. Even though Hard Boiled did not do well at the box office, it was received well by critics. Today, it's considered a cult classic and a masterpiece of Hong Kong cinema.
2 Starship Troopers (1997)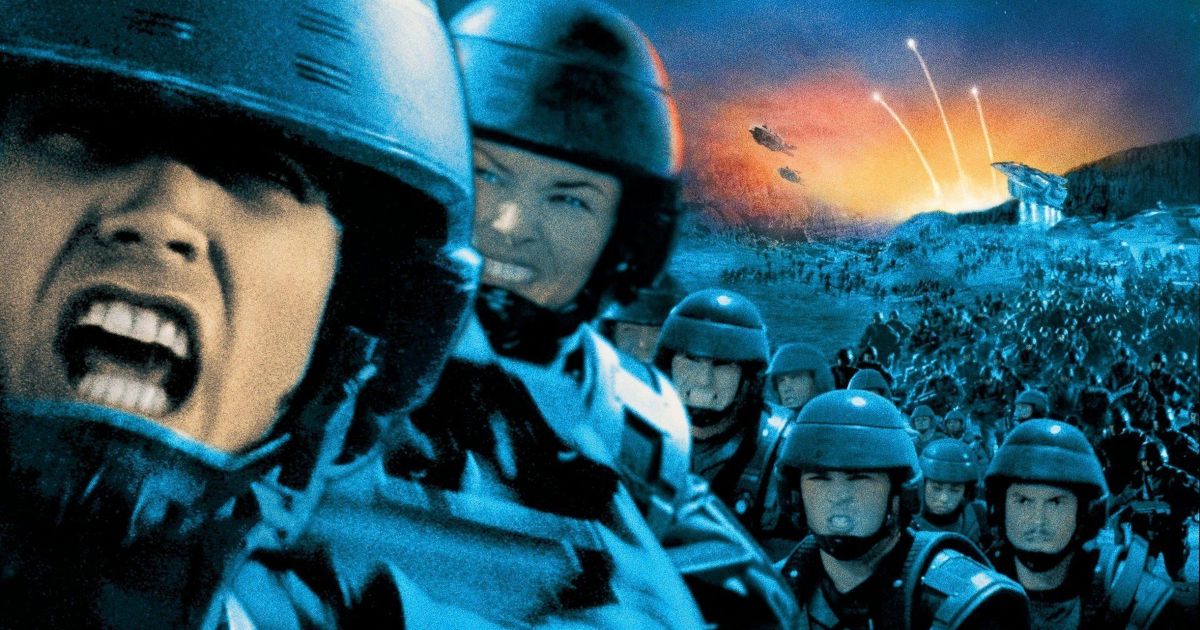 TriStar Pictures
Starship Troopers is perhaps the most compelling sci-fi film that was released in the '90s. Director Paul Verhoeven managed to translate Robert A. Heinlein's novel into a cult-classic sci-fi epic. However, the film was lambasted by critics at the time of its release. Portraying humanity in the far reaches of the future and how they combat the alien Arachnids on different planets, along with some staggering special effects and a story to match, Starship Troopers remains a definitive sci-fi film for the ages.
Capturing the essence of futuristic warfare in a highly technologically advanced society along with some explosive high-octane action sequences, Starship Troopers was a massively underappreciated film in its era as the satire of the film went over many audience members' heads. Nevertheless, it is a film that should receive more plaudits and accolades and find its rightful place as one of the most inventive and definitive films in the sci-fi action genre.
1 Waterworld (1995)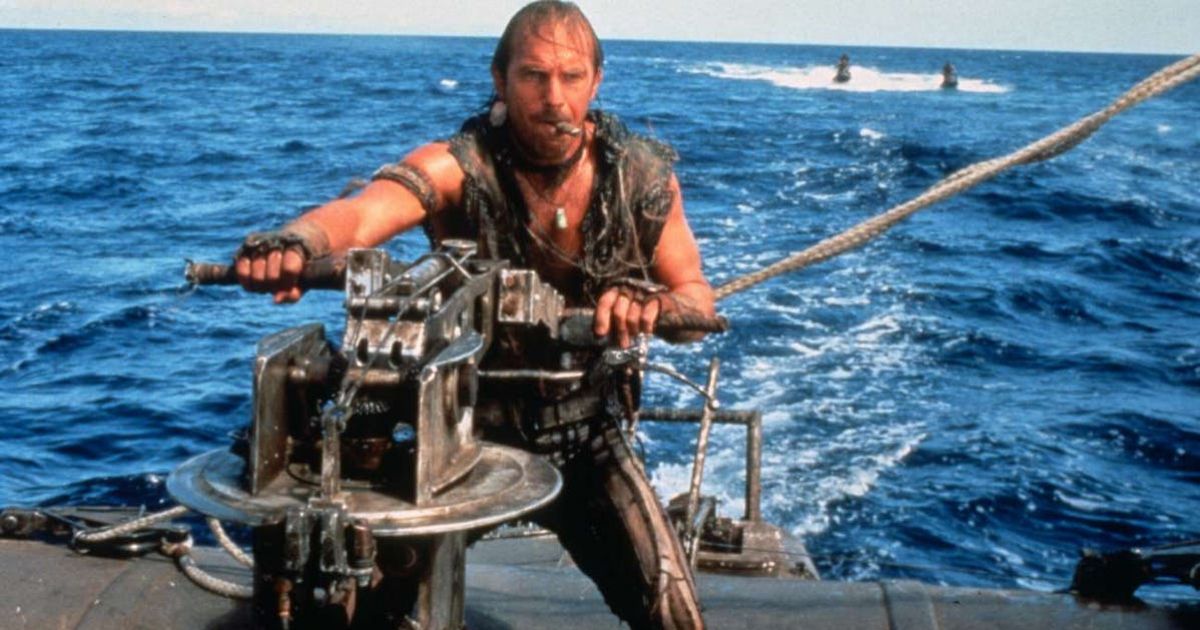 Universal Pictures
Waterworld is set in the year 2500 when all continents on Earth have gone underwater, and the remaining humans are living in floating communities. These humans believe that there is a mythical "Dryland" that exists somewhere in the ocean. To find that land, a group of pirates called Smokers are trying to catch a girl named "Enola", who they believe holds the key to Dryland's location. Enola, along with her guardian Helen and the Mariner, must fight to escape from this floating piratical community.
As one of the most expensive movies to be created in 1995, Waterworld was called cinema's biggest flop and was also slammed by critics at launch (per BBC). Now, it's considered to be one of those movies that were way ahead of its time, as Esquire reports. Even if it doesn't succeed in every way, there's a lot to love about its massive scope and spectacular production value.
'I am officially off the market': When Margot Robbie revealed she made the 'conscious' decision of not dating actors

Margot Robbie revealed her decision to not date actors because of the media scrutiny that came with a public relationship of two high-profile actors
Back in 2015, A-lister Margot Robbie made a declaration that she would not be dating any actors. The actress may have alluded to her fiance Tom Ackerley, who she married the following year in 2016. In an exclusive interview with Marie Claire, she revealed that being in a relationship as an actor herself came with its own set of challenges. She believed that dating someone who was popular would add on to the media scrutiny.
Margot Robbie opened up on why she made a conscious decision to not date actorsTalking to Marie Claire, she claimed, "I am officially off the market." She then shared the reasoning behind her decision and added, "I made a conscious decision not to date actors." She continued to explain, "But not because I hate actors. That's a nasty generalization to make, and that's not the case. People take such an interest in your love life when you have a profile, it puts a lot of stress on a relationship."
The Barbie actress continued, "So two people with profiles, I figure it's just double the amount of scrutiny, and I'd like to avoid that at all costs." This came after reports of her locking lips with Tarzan co-star Alexander Skarsgard started making rounds. It was reported that she was caught kissing the actor during the Sundance Film Festival.
Margot Robbie revealed she opted for a minimal lifestyle even after becoming an actorIn the interview, Robbie also opened up about how she was adapting to fame. She shared, "I have a normal 24-year-old life. If I were a waitress, I'd probably have the exact same lifestyle. I'd go to the same clubs I go to already, live in the same house with the same housemates, hang out with the same people."
However, Margot Robbie tied the knot with Tom Ackerley who is an English producer and actor. The duo met on the sets of 2013 movie Suite Francaise where Tom was working as an assistant director. Post marriage, both of them launched their production company LuckyChap Entertainment.
Post navigation
Monica Bellucci and Tin Burton at lunch in the restaurant in Selci Lama

For All Saints' Day, the Hollywood star from Tiferno returned to his native Umbria to enjoy a moment of relaxation and then visit his parentsOn the occasion of the All Saints' Day celebrations, the Hollywood star of Tiferno origin, Monica Bellucci, returned to her native Umbria to enjoy a moment of relaxation and to visit her father Pasquale and her mother Brunella.Flanked by her current partner Tim Burton, she went to lunch, together with about twenty old friends, at the Osteria del Musicista, which has always been her favorite restaurant, in Selci Lama.Menu dedicated to typical dishes of the area, which includes an appetizer with breadsticks lined with coppa, duck in porchetta and grilled pork livers, polenta with wild boar sauce accompanied by the very typical cappelletti in broth.To conclude, a dessert based on fried "ciaccia" with Nutella and roasted chestnuts.
Having paid the bill and greeted the restaurant owner and lifelong friend, Roberto Polchi, Monica brought home cappelletti and broth for a family dinner.
Post navigation
'Rocky' Was Quite Different In His Original Screenplay, Sylvester Stallone Claims

Sylvester Stallone took his friend's advice on a rewrite of the original screenplay to Rocky. A few tweaks later, he was on his way to major success.
In the new Netflix documentary Sly, Stallone discussed how he initially conceived of the project, which had a much harder edge. In the early version, Rocky was depicted as a "thuggish" character, inspired by Martin Scorsese's crime drama, Mean Streets.
But Stallone's perspective changed when a friend read the script and thought the boxer was too cruel for audiences to actually care about him.
Stallone recalled her crying.
"She goes, 'I hate Rocky. I hate him. He's cruel. He hits people. He beats them up.'"
Stallone took it to heart, and asked what he could do to soften the character.
"I said, 'what if you stop short of it?' Like, maybe he almost did. He could have, that's his job, but he doesn't?' 'That'd be nice,'" he added. "I said, 'What if he had a girlfriend or something?' 'Yeah, that's nice.' So I go back, start writing that: 'Girlfriend. Nice.'"
$117 million in box office later, a franchise was born.
Stallone also revealed that actor Dolph Lundgren sent him to the hospital during one fight scene in Rocky IV.
"Dolph Lundgren… he pulverized me," Stallone says in the documentary. "Later that night, my heart started to swell—which happens when the heart hits the chest—and then my blood pressure went up to 260, and they thought I was going to be talking to angels. Next thing I know, I'm in intensive care, where I'm surrounded by nuns, and I thought, 'OK, that's curtains.'"
Stallone was in the hospital for nine days following the incident, praying for "one more round."
"For the first minute of the fight, it is going to be a free-for-all," Stallone told Lundgren. The Swedish actor joked in a separate interview that all he did was "obey orders," explaining, "[Stallone] was the boss. I did what he told me."
Doctors allegedly told Stallone that he received a blow to the ribs that made his heart rattle around in his ribcage, a condition typically seen in head-on collisions. "I did hit a bus, of sorts," Stallone joked.
Post navigation