The 10 Best Action Movies of 2023 (So Far)
2023 has been a phenomenal year for movies. Horror and animation have delivered some truly sensational movies over the years, and these are two of the genres that have made the biggest splashes this year. However, perhaps the genre that has delivered the best movies, is the action movie genre. From huge blockbusters like John Wick: Chapter 4, and Fast X, to some underrated gems like The Killer and Blood and Gold, here are the best action movies of 2023 pre-July.
10 Plane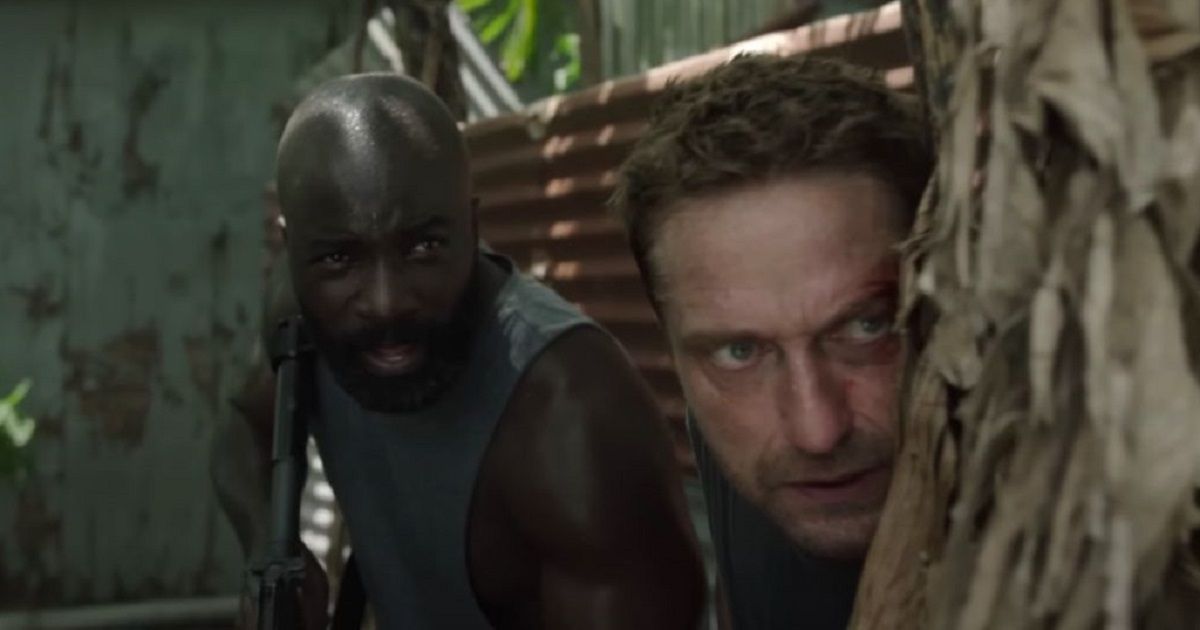 Lionsgate
'80s action movies are on another level. The plots are ridiculous and nonsensical, the action is over-the-top, and the performances are simply awesome, even if they may be bonkers. 2023's Plane delivered all of this and more, making it feel like an authentic '80s action epic. Gerard Butler and Mike Colter were fantastic as Captain Brodie Torrence and criminal Louis Gaspare, respectively. The action is exhilarating and, of course, pretty nuts at points. Releasing early January, Plane kicked off a great year for action movies, and we couldn't think of a better movie to do so.
Related: Best Horror Movies of 2023 So Far
9 Creed III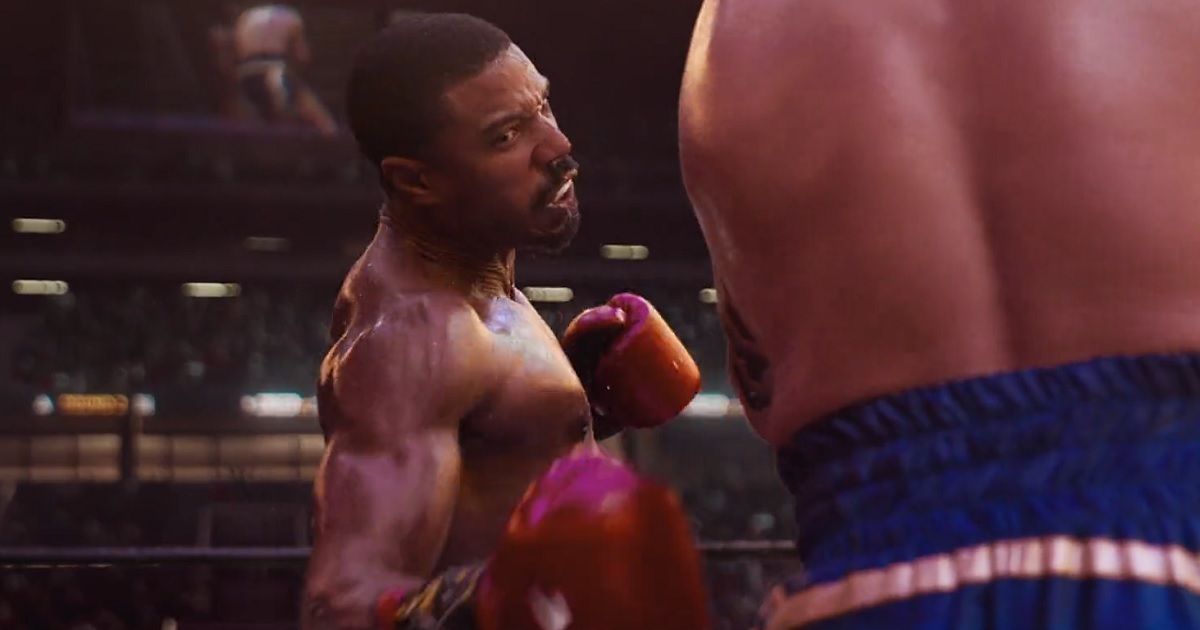 United Artists Releasing/Warner Bros. Pictures
Michael B. Jordan's directorial debut, Creed III is one of the best and most stylized films in the Rocky/Creed franchise. It tells a personal story, with deeply compelling characters and arcs. The movie's villain is terrifying and unpredictable, but perhaps what makes Creed III shine above the rest, is the movie's action.
Michael B. Jordan has always expressed his love for anime, and for his directorial debut, the actor and director brought much of what he adored so much about the genre, into this boxing movie. The fight scenes are stylized, fast-paced, and over-the-top, much like anime. We see slow-mo's, zoom-in's on characters' eyes, and perhaps the best moment is when Michael B. Jordan's Adonis Creed gets sucker punched in the stomach, and time slows down, as the camera cuts to seeing Adonis' sweat fly off his back. It's visceral, over-the-top, and simply awesome.
8 Guy Richie's The Covenant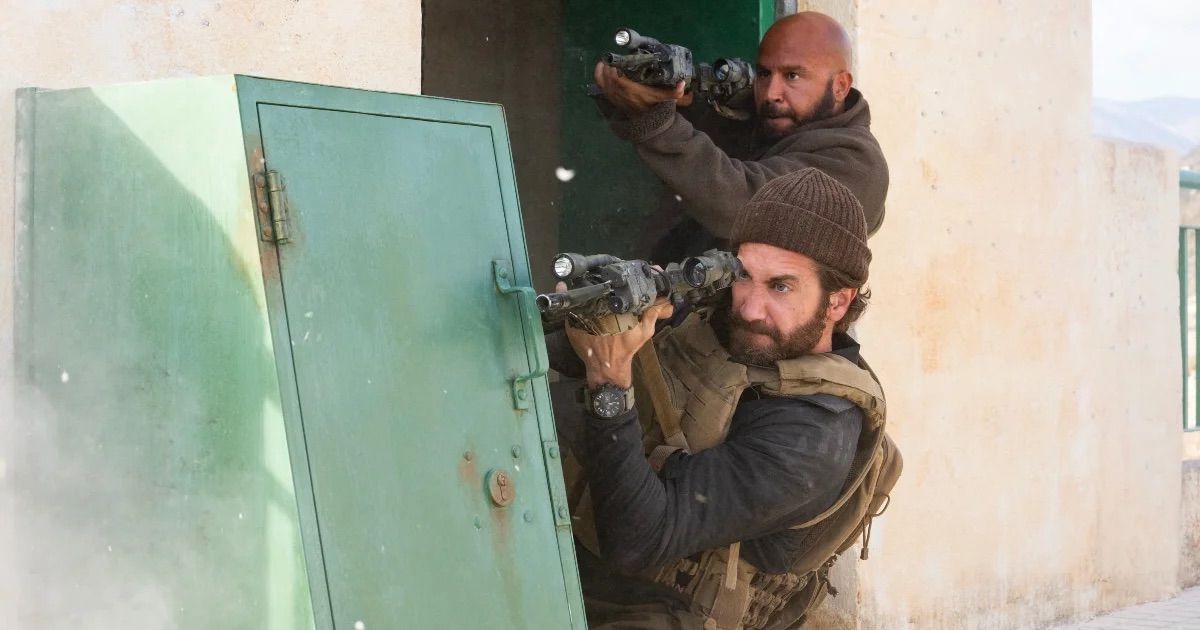 Metro-Goldwyn-Mayer
Guy Richie is one of the best directors of our time. He delivered the ever-so excellent Snatch and Lock, Stock and Two Smoking Barrels. All without mentioning the brilliant Sherlock Holmes movies, starring Robert Downey Jr. His latest movie sees Richie attempt a war film, with The Covenant. This war movie based on a true story was a pleasant surprise, as Guy Richie hasn't been in his best form as of late. What with Operation Fortune releasing this year as well.
The Covenant is a gripping war flick, anchored by sensational performances from Jake Gyllenhaal and Dar Salim. The action is exhilarating, brutal, and masterfully directed by Richie. As a result, The Covenant is one of the biggest and best surprises of the year.
7 Fast X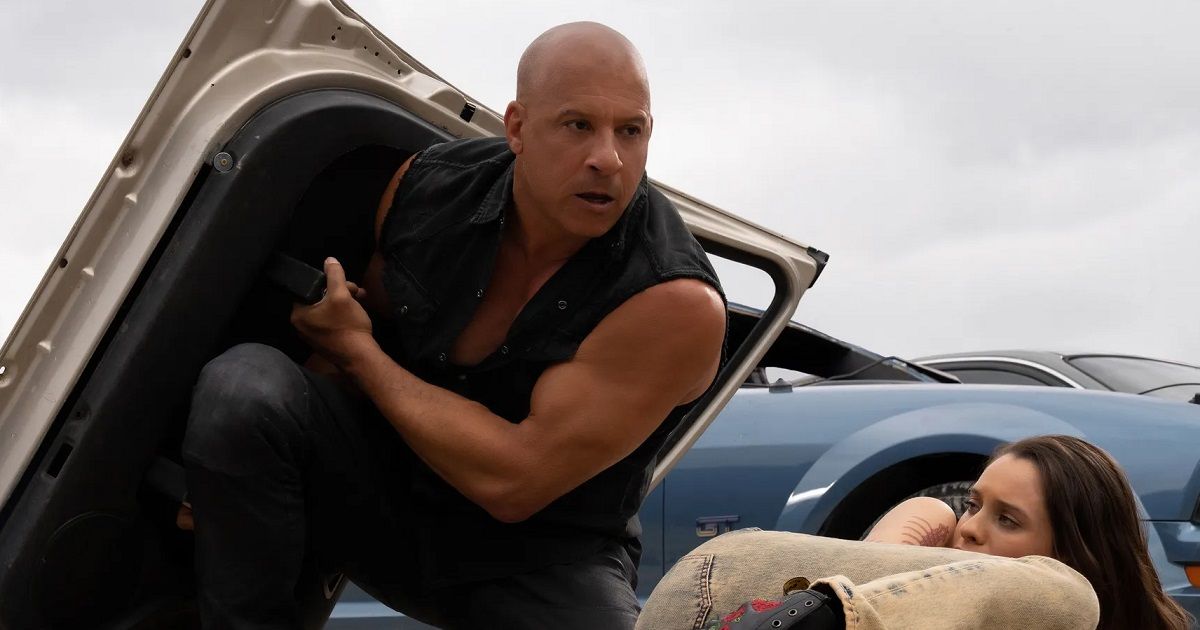 Universal Pictures
If a Fast and Furious movie is one of the year's headlining movies, of course, it's going to end up on a best action movies list of the year. Fast X offers everything we love about the Fast and Furious franchise. Over-the-top action, street races, and, of course, (input Vin Diesel voice here), "family".
However, what sets Fast X apart from the rest of the films in the franchise is the fantastic performance from Jason Momoa, making for the best villain in the franchise.
Related: Fast and Furious: The Most Unbelievable Moments in the Franchise, Ranked
6 The Killer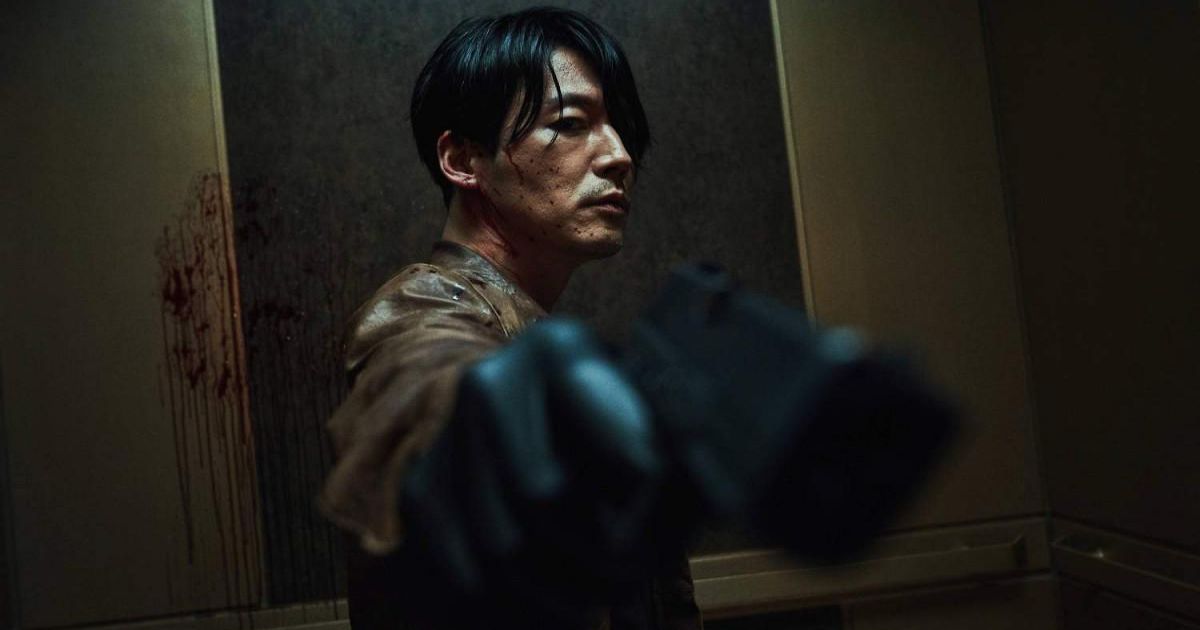 Ascendio
Fans of the John Wick movies will certainly get a kick out of The Killer. The Killer boasts a compelling story somewhat reminiscent of Taken, as well as some incredible action scenes. The action is beautifully shot and perfectly edited, making the fight scenes flow fluidly and allowing the audience to witness every gunshot, knife slash, and punch. Easily the best scene is the long take hallway fight scene that should go among the year's best action sequences. Starring one of the most underrated action stars of all time, Jang Hyuk, The Killer deserves a greater and wider audience.
5 Polite Society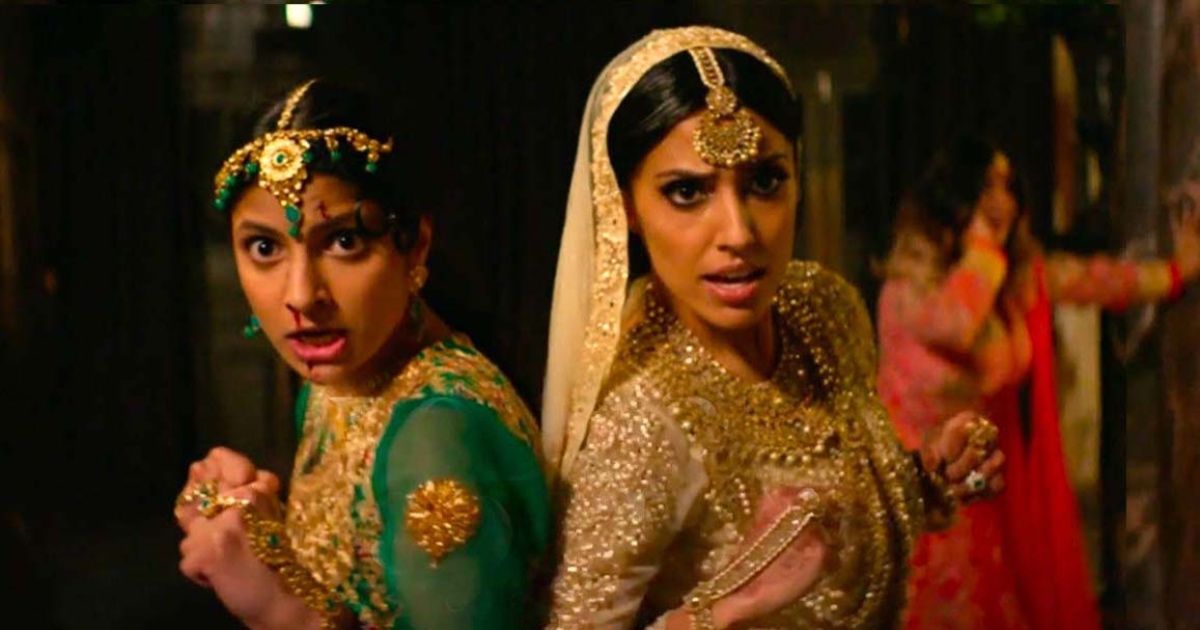 Focus Features
Polite Society is a ton of fun. It's a charming tale centered around a wanna-be martial artist and stuntperson, who thinks her sister's fiancé and mother-in-law to be, are not who they let on. The action is phenomenal, the costume design is stunning, and the performances are effortlessly sweet. Polite Society draws a lot of similarities between a few Edgar Wright movies, like Scott Pilgrim and Hot Fuzz, in terms of its fast editing, humor, and style.
4 Sisu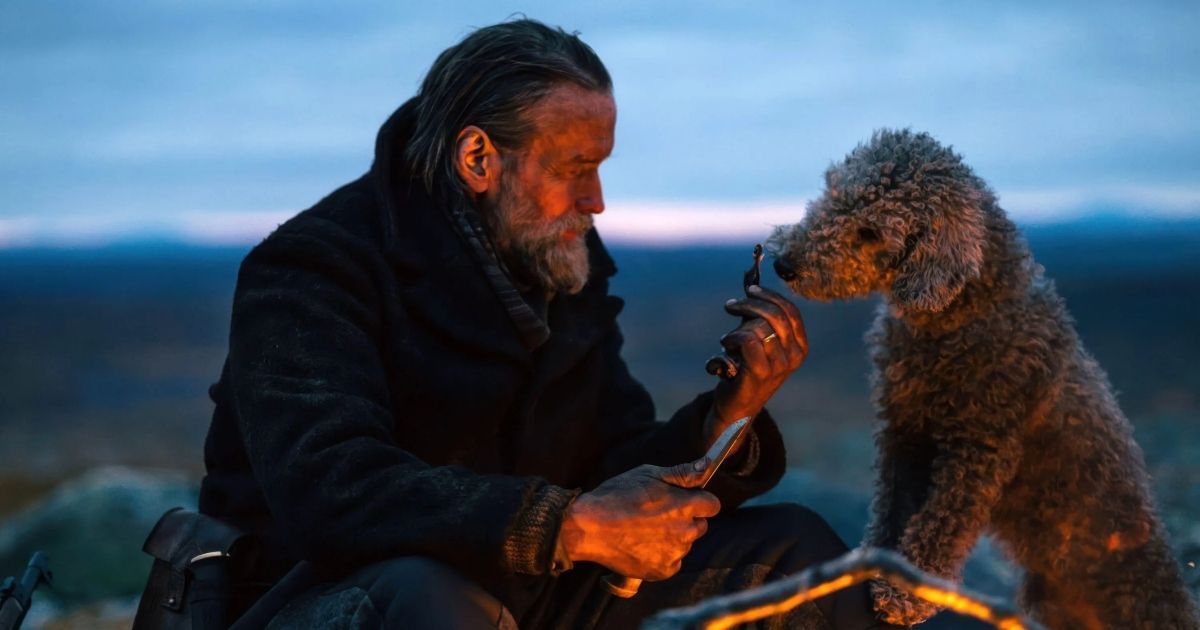 Sony Pictures
Let's face it, there's nothing more rewarding than seeing Nazis getting their asses handed to them. It was satisfying in the Indiana Jones franchise, and it was equally satisfying in Inglourious Basterds. But nowhere has it been more rewarding than in 2023's Sisu. This movie is wild. Nazis get mines thrown at them, knives impaled in their skull, and one even gets strapped to a bomb and dropped out of a plane. It's brutal, compelling, and all-around awesome. Sisu is an action movie not to miss.
3 Dungeons and Dragons: Honor Among Thieves
Paramount Pictures
Dungeons and Dragons: Honor Among Thieves is one of the best movies of the year, period. It offers up an energy very similar to that of the Pirate of the Caribbean movies, and results in a hilarious, and whimsical adventure. The cast was perfect, with the likes of Chris Pine, Michelle Rodriguez, Hugh Grant, Sophia Lillis, Justice Smith, and Regé-Jean Page, who all give incredible performances with fantastic chemistry. On top of that, the movie's action was sensational, and even has an Avengers moment that sees all our heroes fight the antagonist in an exhilarating long take.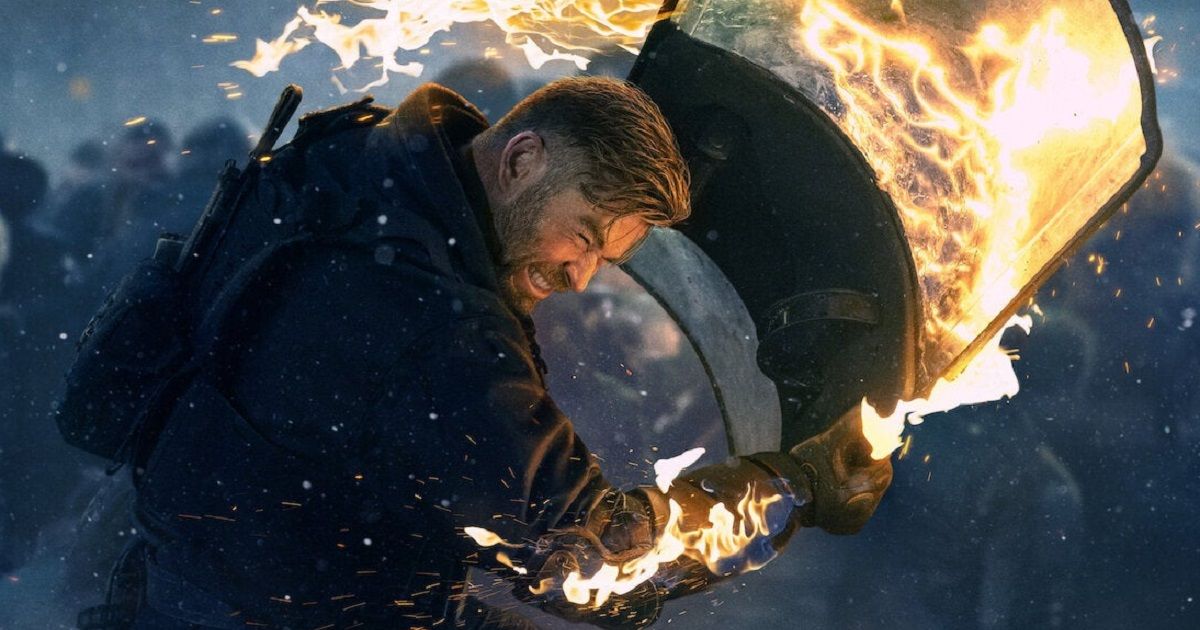 Netflix
Sam Hargraves Extraction is one of the best Netflix original action movies, and when a sequel was quickly green lit, we couldn't wait. Now, three years later with Extraction 2, we were not disappointed. Of course, the action is stunning, with a nearly 30-minute long take that sees Chris Hemsworth's Tyler Rake take out an army of prisoners and guards in a prison riot, a barrage of cars in an epic car chase, and finally, a helicopter on a thrilling fight sequence on a train, all in one take.
The story is far more interesting than the first, and this sequel sets up many spin-offs and sequels that we can't wait to see.
1 John Wick: Chapter 4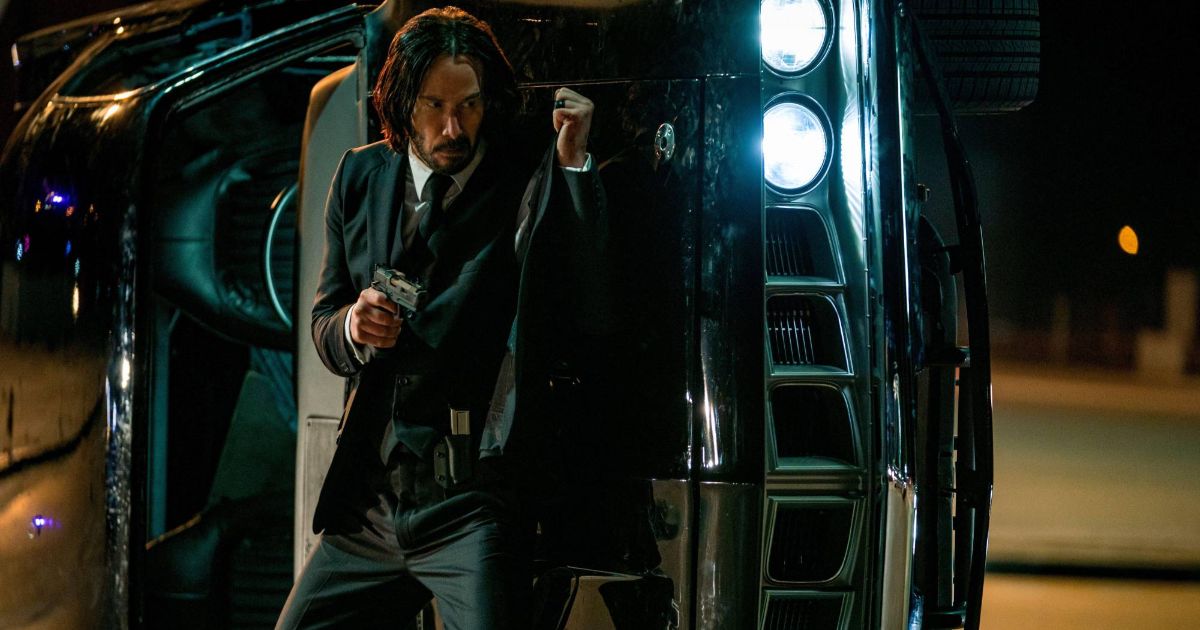 Lionsgate
What else but the flawless John Wick: Chapter 4 to top the list. The fight scenes are mesmerizing. From the hilariously long stair shootout, John killing bad guys while weaving through traffic, a badass nunchuck fight, and, of course, a perfect Dragon's Breath shotgun sequence, shot like a top-down video game. Keanu is at his best, but it's the rest of the cast that elevates this sequel. Donnie Yen delivers his best ever performance, Bill Skarsgård is terrifying, yet dapper as the antagonist, Scott Adkins was phenomenal, and Ian McShane, the late Lance Reddick, and Lawrence Fishbourne, once again deliver standout performances.
It's going to take a lot to beat out John Wick: Chapter 4 as the best action movie of the year.
'I am officially off the market': When Margot Robbie revealed she made the 'conscious' decision of not dating actors

Margot Robbie revealed her decision to not date actors because of the media scrutiny that came with a public relationship of two high-profile actors
Back in 2015, A-lister Margot Robbie made a declaration that she would not be dating any actors. The actress may have alluded to her fiance Tom Ackerley, who she married the following year in 2016. In an exclusive interview with Marie Claire, she revealed that being in a relationship as an actor herself came with its own set of challenges. She believed that dating someone who was popular would add on to the media scrutiny.
Margot Robbie opened up on why she made a conscious decision to not date actorsTalking to Marie Claire, she claimed, "I am officially off the market." She then shared the reasoning behind her decision and added, "I made a conscious decision not to date actors." She continued to explain, "But not because I hate actors. That's a nasty generalization to make, and that's not the case. People take such an interest in your love life when you have a profile, it puts a lot of stress on a relationship."
The Barbie actress continued, "So two people with profiles, I figure it's just double the amount of scrutiny, and I'd like to avoid that at all costs." This came after reports of her locking lips with Tarzan co-star Alexander Skarsgard started making rounds. It was reported that she was caught kissing the actor during the Sundance Film Festival.
Margot Robbie revealed she opted for a minimal lifestyle even after becoming an actorIn the interview, Robbie also opened up about how she was adapting to fame. She shared, "I have a normal 24-year-old life. If I were a waitress, I'd probably have the exact same lifestyle. I'd go to the same clubs I go to already, live in the same house with the same housemates, hang out with the same people."
However, Margot Robbie tied the knot with Tom Ackerley who is an English producer and actor. The duo met on the sets of 2013 movie Suite Francaise where Tom was working as an assistant director. Post marriage, both of them launched their production company LuckyChap Entertainment.
Post navigation
Monica Bellucci and Tin Burton at lunch in the restaurant in Selci Lama

For All Saints' Day, the Hollywood star from Tiferno returned to his native Umbria to enjoy a moment of relaxation and then visit his parentsOn the occasion of the All Saints' Day celebrations, the Hollywood star of Tiferno origin, Monica Bellucci, returned to her native Umbria to enjoy a moment of relaxation and to visit her father Pasquale and her mother Brunella.Flanked by her current partner Tim Burton, she went to lunch, together with about twenty old friends, at the Osteria del Musicista, which has always been her favorite restaurant, in Selci Lama.Menu dedicated to typical dishes of the area, which includes an appetizer with breadsticks lined with coppa, duck in porchetta and grilled pork livers, polenta with wild boar sauce accompanied by the very typical cappelletti in broth.To conclude, a dessert based on fried "ciaccia" with Nutella and roasted chestnuts.
Having paid the bill and greeted the restaurant owner and lifelong friend, Roberto Polchi, Monica brought home cappelletti and broth for a family dinner.
Post navigation
'Rocky' Was Quite Different In His Original Screenplay, Sylvester Stallone Claims

Sylvester Stallone took his friend's advice on a rewrite of the original screenplay to Rocky. A few tweaks later, he was on his way to major success.
In the new Netflix documentary Sly, Stallone discussed how he initially conceived of the project, which had a much harder edge. In the early version, Rocky was depicted as a "thuggish" character, inspired by Martin Scorsese's crime drama, Mean Streets.
But Stallone's perspective changed when a friend read the script and thought the boxer was too cruel for audiences to actually care about him.
Stallone recalled her crying.
"She goes, 'I hate Rocky. I hate him. He's cruel. He hits people. He beats them up.'"
Stallone took it to heart, and asked what he could do to soften the character.
"I said, 'what if you stop short of it?' Like, maybe he almost did. He could have, that's his job, but he doesn't?' 'That'd be nice,'" he added. "I said, 'What if he had a girlfriend or something?' 'Yeah, that's nice.' So I go back, start writing that: 'Girlfriend. Nice.'"
$117 million in box office later, a franchise was born.
Stallone also revealed that actor Dolph Lundgren sent him to the hospital during one fight scene in Rocky IV.
"Dolph Lundgren… he pulverized me," Stallone says in the documentary. "Later that night, my heart started to swell—which happens when the heart hits the chest—and then my blood pressure went up to 260, and they thought I was going to be talking to angels. Next thing I know, I'm in intensive care, where I'm surrounded by nuns, and I thought, 'OK, that's curtains.'"
Stallone was in the hospital for nine days following the incident, praying for "one more round."
"For the first minute of the fight, it is going to be a free-for-all," Stallone told Lundgren. The Swedish actor joked in a separate interview that all he did was "obey orders," explaining, "[Stallone] was the boss. I did what he told me."
Doctors allegedly told Stallone that he received a blow to the ribs that made his heart rattle around in his ribcage, a condition typically seen in head-on collisions. "I did hit a bus, of sorts," Stallone joked.
Post navigation