Latest Teaser Finds Denzel Washington Doing Battle With the Mafia
Summary
Denzel Washington will star for the last time as Robert McCall in The Equalizer 3, marking the final chapter of the action franchise. The teaser reveals a glimpse of McCall's attempt to settle into a peaceful life, but his past and the threat from the local mafia disrupts his tranquility. The film features a star-studded cast, including Dakota Fanning, and reunites Washington with director Antoine Fuqua.
Academy Award winner and Hollywood icon Denzel Washington takes the fight to the "cancer" that is the Mafia in the latest teaser for The Equalizer 3. Released via Sony Pictures, Washington is all set to launch the final chapter of the action movie franchise next month. Check out the latest look at The Equalizer 3 below.
And the final chapter of The Equalizer series it will indeed be, as Washington himself has revealed that the threequel will be the last time that he will star as the mysterious government agent and assassin Robert McCall. "I don't want to say he's found happiness, and I don't want to give it all away, but he meets someone lovely, he's in a lovely town and he seems to be at peace. That seems to be a good place to stop," the actor said of his final outing as The Equalizer earlier this month.
Denzel Washington's enigmatic portrayal of Robert McCall, the retired U.S. Marine and ex-DIA officer, is set to thrill audiences once more in Antoine Fuqua's latest installment of the high-adrenaline series, The Equalizer 3. With the preceding two movies becoming almost legendary since their debut in 2014, the third installment has been eagerly anticipated.
Washington's McCall is a character of contrasts – a juxtaposition of serenity and brutal efficiency. This recently unveiled teaser offers a glimpse of McCall attempting to settle into a quieter life, surrounded by the mesmerizing architecture of his new overseas home. However, as is evident, Robert McCall's past casts a long shadow, one he can't easily escape. Despite striving for peace, when faced with the threat from local mafia, McCall's indomitable spirit and his lethal prowess emerge in defense of his new-found tranquillity and those dear to him. The teaser hints at McCall's signature style: dispensing his foes with an eerie calm yet unmatched ferocity.
RELATED: The Equalizer 3 Director Sheds Light on Mafia Villains & Dakota Fanning Reunion
Rising from the Ashes: How The Equalizer Evolved from Cancelation to a Cinematic Powerhouse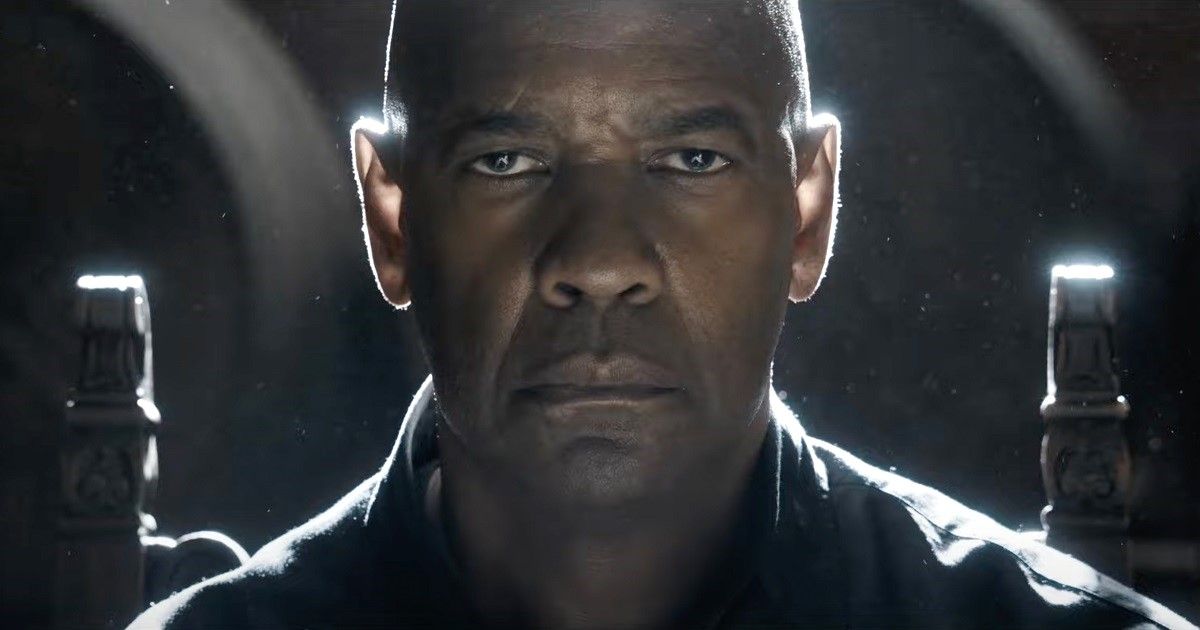 Sony Pictures
Adding to the excitement, The Equalizer 3 boasts a star-studded cast. While Washington's McCall remains the centerpiece, the film also introduces talents such as Sonia Ammar of Scream, David Denman, best known from The Office, and other notable names like Andrea Doddero, Bruno Bilotta, and Remo Girone. Yet, one of the most tantalizing pair-ups the audience awaits is the reunion of Dakota Fanning with Washington. Their prior collaboration in the gripping thriller, Man on Fire, nearly two decades ago, created cinematic magic. Their on-screen chemistry in an action-packed setting once again is bound to captivate fans. Moreover, the Washington-Fuqua pairing, celebrated for iconic films like Training Day and The Magnificent Seven, returns to weave magic, reinforcing the strong foundations of their earlier successes.
Tracing the origins of The Equalizer takes us back to the 1980s when Michael Sloan and Richard Lindheim introduced the world to the series with Edward Woodward in the pivotal role. Despite its premature cancelation in 1989, the story remained dormant only to be explosively revived decades later by Richard Wenk and Fuqua. The modern reincarnation not only spawned a movie sequel but also inspired CBS to launch a series with Queen Latifah portraying Robin McCall. This progression has cemented The Equalizer in contemporary cinematic folklore, making it a formidable franchise.
For those eagerly awaiting a dose of action and drama, the latest teaser for The Equalizer 3 is sure to whet your appetite. Mark your calendars as the film rolls out in theaters come September 1. As the new chapter unfolds, expect a blend of thrilling encounters, unforgettable characters, and a testament to the enduring spirit of Robert McCall.
'I am officially off the market': When Margot Robbie revealed she made the 'conscious' decision of not dating actors

Margot Robbie revealed her decision to not date actors because of the media scrutiny that came with a public relationship of two high-profile actors
Back in 2015, A-lister Margot Robbie made a declaration that she would not be dating any actors. The actress may have alluded to her fiance Tom Ackerley, who she married the following year in 2016. In an exclusive interview with Marie Claire, she revealed that being in a relationship as an actor herself came with its own set of challenges. She believed that dating someone who was popular would add on to the media scrutiny.
Margot Robbie opened up on why she made a conscious decision to not date actorsTalking to Marie Claire, she claimed, "I am officially off the market." She then shared the reasoning behind her decision and added, "I made a conscious decision not to date actors." She continued to explain, "But not because I hate actors. That's a nasty generalization to make, and that's not the case. People take such an interest in your love life when you have a profile, it puts a lot of stress on a relationship."
The Barbie actress continued, "So two people with profiles, I figure it's just double the amount of scrutiny, and I'd like to avoid that at all costs." This came after reports of her locking lips with Tarzan co-star Alexander Skarsgard started making rounds. It was reported that she was caught kissing the actor during the Sundance Film Festival.
Margot Robbie revealed she opted for a minimal lifestyle even after becoming an actorIn the interview, Robbie also opened up about how she was adapting to fame. She shared, "I have a normal 24-year-old life. If I were a waitress, I'd probably have the exact same lifestyle. I'd go to the same clubs I go to already, live in the same house with the same housemates, hang out with the same people."
However, Margot Robbie tied the knot with Tom Ackerley who is an English producer and actor. The duo met on the sets of 2013 movie Suite Francaise where Tom was working as an assistant director. Post marriage, both of them launched their production company LuckyChap Entertainment.
Post navigation
Monica Bellucci and Tin Burton at lunch in the restaurant in Selci Lama

For All Saints' Day, the Hollywood star from Tiferno returned to his native Umbria to enjoy a moment of relaxation and then visit his parentsOn the occasion of the All Saints' Day celebrations, the Hollywood star of Tiferno origin, Monica Bellucci, returned to her native Umbria to enjoy a moment of relaxation and to visit her father Pasquale and her mother Brunella.Flanked by her current partner Tim Burton, she went to lunch, together with about twenty old friends, at the Osteria del Musicista, which has always been her favorite restaurant, in Selci Lama.Menu dedicated to typical dishes of the area, which includes an appetizer with breadsticks lined with coppa, duck in porchetta and grilled pork livers, polenta with wild boar sauce accompanied by the very typical cappelletti in broth.To conclude, a dessert based on fried "ciaccia" with Nutella and roasted chestnuts.
Having paid the bill and greeted the restaurant owner and lifelong friend, Roberto Polchi, Monica brought home cappelletti and broth for a family dinner.
Post navigation
'Rocky' Was Quite Different In His Original Screenplay, Sylvester Stallone Claims

Sylvester Stallone took his friend's advice on a rewrite of the original screenplay to Rocky. A few tweaks later, he was on his way to major success.
In the new Netflix documentary Sly, Stallone discussed how he initially conceived of the project, which had a much harder edge. In the early version, Rocky was depicted as a "thuggish" character, inspired by Martin Scorsese's crime drama, Mean Streets.
But Stallone's perspective changed when a friend read the script and thought the boxer was too cruel for audiences to actually care about him.
Stallone recalled her crying.
"She goes, 'I hate Rocky. I hate him. He's cruel. He hits people. He beats them up.'"
Stallone took it to heart, and asked what he could do to soften the character.
"I said, 'what if you stop short of it?' Like, maybe he almost did. He could have, that's his job, but he doesn't?' 'That'd be nice,'" he added. "I said, 'What if he had a girlfriend or something?' 'Yeah, that's nice.' So I go back, start writing that: 'Girlfriend. Nice.'"
$117 million in box office later, a franchise was born.
Stallone also revealed that actor Dolph Lundgren sent him to the hospital during one fight scene in Rocky IV.
"Dolph Lundgren… he pulverized me," Stallone says in the documentary. "Later that night, my heart started to swell—which happens when the heart hits the chest—and then my blood pressure went up to 260, and they thought I was going to be talking to angels. Next thing I know, I'm in intensive care, where I'm surrounded by nuns, and I thought, 'OK, that's curtains.'"
Stallone was in the hospital for nine days following the incident, praying for "one more round."
"For the first minute of the fight, it is going to be a free-for-all," Stallone told Lundgren. The Swedish actor joked in a separate interview that all he did was "obey orders," explaining, "[Stallone] was the boss. I did what he told me."
Doctors allegedly told Stallone that he received a blow to the ribs that made his heart rattle around in his ribcage, a condition typically seen in head-on collisions. "I did hit a bus, of sorts," Stallone joked.
Post navigation