8 Surprising Facts About Jean-Claude Van Damme
JEAN-CLAUDE VAN DAMME WAS A BALLET "NERD."
Kicking out of his mother's womb on October 18, 1960 in Berchem-Sainte-Agathe, Brussels, Belgium, the future Van Damme was born Jean-Claude Camille François Van Varenberg. (He used the stage name "Frank Cujo" before settling on Van Damme.) A self-described "nerd," Van Damme studied karate and ballet in his youth, the latter for five years. He said his father encouraged him to take karate in order for the bespectacled Van Damme to be able to toughen up. But Van Damme also said ballet greatly aided his martial arts ability and screen presence.

"I was always attracted to ballet because of the dexterity, the stretching, the grace, and the fact that you are able to control without showing any pain on your face," Van Damme told the Chicago Tribune in 1993. "I mixed the grace and the movement with the power of karate. It's been a big help in my movies."
JEAN-CLAUDE VAN DAMME WORKED AS A BOUNCER FOR CHUCK NORRIS.
Van Damme operated a gym in Brussels and had success in bodybuilding and modeling, but he wanted to act. Heading to Hollywood in his early 20s to pursue his dreams of stardom, Van Damme picked up bits parts in films like 1984's Monaco Forever (he was officially credited as "Gay Karate Man") and a future GIF-worthy scene in 1984's Breakin' while working as a cab driver, waiter, and bouncer, among other odd jobs. Most notably, he bounced for Woody's Wharf, a bar owned by martial arts icon Chuck Norris. "American people are big people," Van Damme told The Hollywood Reporter in 2019. "I didn't have any fight, thank God. I was a good schmoozer, simpatico and no incident happened."
JEAN-CLAUDE VAN DAMME GOT HIS BIG BREAK BY THROWING KICKS AT A PRODUCER'S HEAD.
After a tense shoot on 1987's Predator, in which Van Damme was cast as the titular alien but was replaced during production, the actor wanted to find a role better-suited to his talents. One day, he found himself crossing paths with B-movie producer Menahem Golan. Seizing the opportunity, Van Damme began launching kicks at Golan, stopping short of connecting. This earned him a meeting in Golan's office, in which a shirtless Van Damme convinced Golan he was skilled, charismatic, and most importantly, cheap. Golan cast him in 1988's Bloodsport, a martial arts tournament film ostensibly based on the real-life exploits of Frank Dux. Van Damme helped re-cut the film with screenwriter Sheldon Lettich and Carl Kress, an editor who worked on 1974's The Towering Inferno. Bloodsport went on to make $65 million, turning Van Damme into an overnight star.
JEAN-CLAUDE VAN DAMME ONCE THREW A PAPAYA AT A PRODUCER'S HEAD.
The success of Bloodsport led to steady work for Van Damme, who appeared in 1989's Kickboxer, 1990's Lionheart, and 1991's Double Impact. In the latter, he played twins out to avenge the death of their father. But the production was troubled. In 2019, Van Damme told Yahoo! that the producer of the film was attempting to divert funds from Double Impact to 1991's Stone Cold, an action vehicle for NFL star Brian Bosworth. Van Damme grew so upset that he threw a papaya at the producer's head. "Thank God he ducked," Van Damme said. "[It splattered] all over the wall. And he just ran away to the airport. I was crazy at the time. You just don't touch my movie."
JEAN-CLAUDE VAN DAMME ONCE CHALLENGED STEVEN SEAGAL TO A FIGHT AT SYLVESTER STALLONE'S HOUSE.
According to Sylvester Stallone, a fight between the two action stars nearly happened off-camera. In 1997, Stallone invited both Van Damme and actor Steven Seagal to a house party at Stallone's property in Miami, Florida. At some point, Van Damme expressed irritation that Seagal had previously claimed he could best Van Damme in a fight. Van Damme demanded Seagal follow him outside to settle it, which Stallone claimed Seagal avoided. Later, the two were at a nightclub when Van Damme again confronted Seagal, who slipped out "like Houdini," according to Stallone.
JEAN-CLAUDE VAN DAMME KNOWS HIS FILM TITLES CAN GET REPETITIVE.
Many Van Damme films have some variation of "death" or "dead" in the title, a fact Van Damme is well aware of. Promoting his Amazon Prime series Jean-Claude Van Johnson in 2017, the actor joked about the generic flavor of the films. "For a while, I was kind of forgotten there," he told Rolling Stone. "'OK, Jean-Claude, what's he doing?' Sudden Death, March of Death, Dead Dead Dead, and Double Dead, and what was the last one? Dead on Dead." Van Damme's most recent live-action feature was 2019's We Die Young.
JEAN-CLAUDE VAN DAMME GAVE ONE OF TIME MAGAZINE'S GREAT MOVIE PERFORMANCES OF 2008.
At times dismissed for being more of a physical performer than an actor, Van Damme earned critical praise in 2008 for JCVD, a meta film in which he portrays himself dealing with both a bank heist and the torment of self-reflection. In one six-minute monologue, Van Damme lays himself bare. TIME dubbed it one of the great performances of the year.
JEAN-CLAUDE VAN DAMME HAS TWO STATUES DEDICATED IN HIS HONOR.
In 2012, a statue paying tribute to Van Damme debuted in Brussels, Belgium in front of the Westland Shopping Center. The towering sculpture depicts Van Damme in a martial arts posture, ready to strike. Van Damme also has a second statue sporting his likeness, this one in the country of Azerbaijan. The piece, which features Van Damme doing his trademark splits, is located in the village of Vandam.
The Ultimate List of the Best Action Movie Hero Names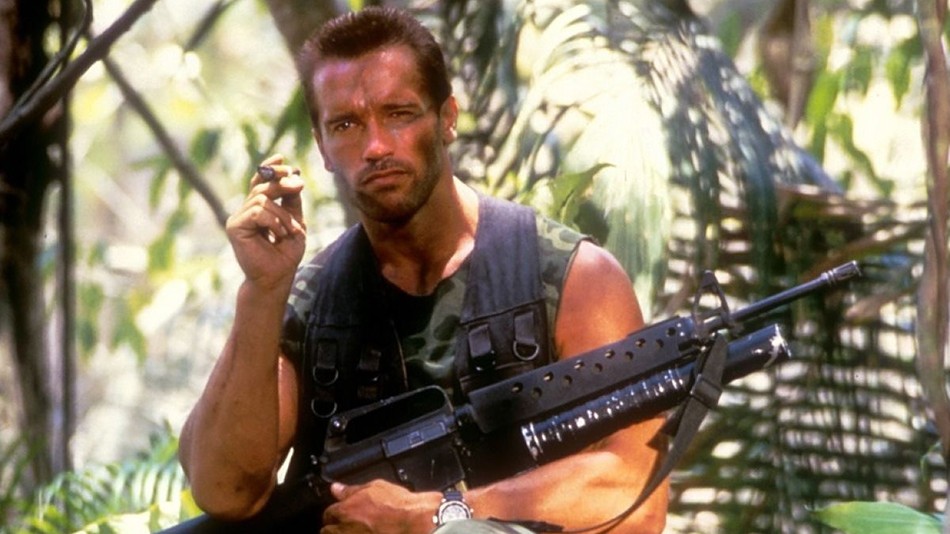 Arnold Schwarzenegger (aka "Arnie", "The Austrian Oak", or "The Govenator") is an ultimate action movie legend of the first class. Both a former Mr. Universe and Mr. Olympia champion bodybuilder and former Governor of California, Arnold has risen to the highest levels of worldly success.
Born in Thal, Styria, Austria, Arnold made his breakthrough into Hollywood action movies originally in sword-and-sorcery with Conan the Barbarian and in sci-fi with The Terminator, early roles which let him hide his thick accent and lack of American acting experience.
However, Arnold quickly found his niche and would go on to helm some of the most critically and commercially successful action movie blockbusters of all time. Including Terminator 2: Judgement Day and the Terminator Series, Commando, Predator, Total Recall and True Lies to name a few. While he has eased up in later years to pursue public office, his legacy remains Arnold strong!
Watch more Arnold Schwarzenegger clips here!
Arnold Schwarzenegger Articles
American Ninja 4: The Annihilation (1991) Biography, Plot, Trailer
American Ninja 4: The Annihilation (1991)
American Ninja 4: The Annihilation is a 1991 American martial arts action film starring Michael Dudikoff, David Bradley, and James Booth. A sequel to American Ninja 3: Blood Hunt (1989), it is the fourth installment in the American Ninja franchise, followed by American Ninja V and was directed by Cedric Sundstrom. The film marked Michael Dudikoff's final appearance in the American Ninja franchise.
Plot
A Delta Force unit attempts to escape from a pursuing group of ninja in a foreign country but most are killed and the rest are captured. The secret Ninja Army is headed by Colonel Scarf Mulgrew) an ex-British policeman and anti-American who has joined with Shiekh Ali Maksood, a Muslim militant, who plans to bring a suitcase nuke to New York. Mulgrew threatens to burn the commandos alive and use the nuke unless he is paid a ransom of 50 million dollars. Agents Sean Davidson and Carl Brackston are sent on a covert mission to rescue the prisoners and defeat the terrorists.
RELATED:
New York Ninja (2021) Biography, Production, Release, Trailer
Sean and Carl parachute in and meet their contact Pango. While gathering information from a local operative named Freddie, they are confronted by Mulgrew and the corrupt local police headed by O'Reilly. Freddie is killed by Mulgrew but Sean, Carl, and Pango escape. Pango takes them to Dr. Sarah a Peace Corps nurse who hides them from the police. Soon after ninjas attack, capturing Sean, Carl and Sarah alive while Pango escapes, and imprisoning them in an old British fort to be tortured by Mulgrew. Mulgrew assaults Sarah and later it is revealed Mulgrew killed her father.
Cast 
Michael Dudikoff as Agent Joe Armstrong
David Bradley as Agent Sean Davidson
Dwayne Alexandre as Agent Carl Brackston
Robin Stille as Dr. Sarah[3]
Ken Gampu as Dr. Tamba
James Booth as Colonel Scarf Mulgrew
Ron Smerczak as Shiekh Ali Maksood
Frantz Dobrowsky as Captain O'Reilly
Kely McClung as Super Ninja
Jody Abrahams as Pango
Anthony Fridjhon as Freddie / Treddle
David Sherwood as Gavin
Sean Kelly as Norris
Jamie Bartlett as Segal
John Pasternak as Carlos
Robin B. Smith as Schultz
Shane Safi as Little Special School Child
The post American Ninja 4: The Annihilation (1991) Biography, Plot, Trailer appeared first on martial-arts-viral-news.
Will Smith CONFRONTS Jim Carrey For HUMILIATING Him On Live TV
Get ready for the ultimate showdown! In this explosive video, Will Smith confronts Jim Carrey after being publicly humiliated on live TV.

The two Hollywood legends have a long-standing rivalry, but things came to a head after Jim's controversial comments about Will during an interview.
With tensions running high, Will finally has the opportunity to confront Jim face-to-face and demand an apology.
But will Jim be able to make amends for his insulting remarks, or will this confrontation only escalate the feud further?
Watch now to find out!
Here on Just In we are all about the latest spill in Hollywood! You can rest assured that we will bring you all the latest celebrity drama and gossip especially concerning your favorite actors! We´ll also make sure to keep you updated on the newest movie updates and releases – so if you are interested in anything that happens in Hollywood, you should make sure to stay tuned!
And there you have it guys! We hope you enjoyed the video! If you did please consider leaving a like and telling us what you thought in the comments!
But will Jim be able to make amends for his insulting remarks, or will this confrontation only escalate the feud further?
Watch now to find out!