The Film Feud of the 90s: Steven Seagal vs Jean-Claude Van Damme
The 90's begin. Action cinema is at the height of popularity, headed up by Arnold Schwarzenegger and Sylvester Stallone, with Bruce Willis and Mel Gibson also throwing their hats into the mix. The video boom would contribute to a huge surge in new action heroes being launched through that decade, and a few of the cinematic also-rans of the 80's would quickly become VHS stalwarts (Chuck Norris, Michael Dudikoff, and Dolph Lundgren).

Two men chased and nipped at the heels of Stallone and Schwarzenegger. As Arnold and Sly began misfiring with ill-conceived comedies, Jean-Claude Van Damme and Steven Seagal were threatening to elbow a placing at the Planet Hollywood table. By the time Van Damme was knocking out heavy hitters like Universal Soldier and Timecop, and Seagal was moving from his mega hit Under Siege (notable as much for its excellent duo of villains in Gary Busey and Tommy Lee Jones as it was for Seagal himself) to his big budget.
directorial debut On Deadly Ground, the pair were a solid choice or two away from usurping Arnold and Sly. There had often been a simmering rivalry between Arnie and Sly which was accentuated in the press as well as sly digs in their respective films ('Schwarzenegger was president!!') but that was nothing compared to the two in their wake. In the end On Deadly Ground, Seagal's ego drenched and subtlety free eco-ego pic, bombed and Van Damme, by the mid-90's was making poor choices (including his own ill-fated directorial debut, The Quest). Still, when both were in their prime and at their peak popularity the rivalry between the pair was intense.


From Van Damme's side there was a simple quiet dismissal and catty comment whenever asked about Seagal back then. From Seagal's point of view, whenever the subject of the Belgian came up, the response was pure vitriol.

Seagal would, with regularity, on talk show circuits or media interviews, belittle Van Damme as a movie star and more so, as a martial artist. In fairness, the atypical Seagal fight sequence during those peak years had a rough, grounded and ruthlessly efficient toughness, that differed greatly from the balletic and almost overly pretty Van Damme fight sequences. There was a certain repetition and formula to the Van Damme fight. Opponents would stand and wait to be kicked in the face.


In a Seagal fight sequence, he would repel a barrage of attacks and opponents wouldn't always wait one at a time. What looked more realistic? Well even as someone with a Van Damme preference over Seagal, the classic Seagal film fights looked more 'authentic.' Movies aren't always about the 'authentic' though. Still…it was leading Seagal to openly question Van Damme's real life credentials.

Seagal wouldn't be the first, nor last either. Ask Don 'The Dragon' Wilson, a renowned World Champion Kickboxer turned action star who famously challenged Van Damme to a fight (Van Damme declined). Rumours were rife that Seagal also challenged Van Damme to a fight, who declined, and indeed vice versa that on one occasion at a party hosted by Sly Stallone, that Seagal made a hasty exit upon hearing JCVD had turned up wanting to square up (which Stallone himself claimed).


By the mid-90's both men had similar reputations on set as being difficult to work with and as being particularly rough on stunt men. Their backgrounds were very different. Van Damme came to America with no money and through force of will forged himself a break (Bloodsport) and began progressively rising through incrementally bigger projects.

Seagal, an Aikido master, one of the few westerners to study and achieve his rank in Japan, was somewhat more mysterious (rumours of him being involved in the CIA were far fetched but he had a mythos). Seagal had made a few connections through his Martial Arts dojo. He'd instructed James Bond himself Sean Connery (breaking Connery's wrist during the shoot for Never Say Never Again). Those film connections lead to him being given a surprising amount of creative control for his debut Above The Law. This was a Warner Bros. picture with a rising director (Andrew Davis, who would later make The Fugitive) and moderate budget. Whilst Van Damme rose through smaller companies before hitting the biggies, Seagal hit the ground running (and didn't his ego just know it!).

Both rose to their heights by adhering to formula. A Van Damme film, albeit with some riffs here and there, and occasionally a high concept (Universal Soldier, Timecop), were pretty formulaic. Seagal was even more formulaic. After Above The Law, a slew of almost interchangeable (but enjoyable) actioners, Hard To Kill, Out for Justice and Marked For Death would lead to Under Siege (which is Seagal's monster hit and remains his best all round work). Even well past their respective peak years and deep into their video market placing there's still the animosity. Van Damme has seemingly moved to quell it somewhat, but Seagal has often found it hard to resist a dig, or quickly dismissed the subject and moved on. There is no love lost. In the end, who had the more prolific career?

Both men would claim to have won the battle, though Van Damme having more prolifically churned out profitable films back in the 80's up to mid 90's probably has the best case. Indeed, as actors, whilst Van Damme has honed his craft and sought to improve immeasurably over the years (best showcased in JCVD or more recently, The Bouncer), Seagal has never seemed to develop, merely losing enthusiasm with every passing year. Certainly in that auspicious debut there was a charisma and command and naturalism that suggested Seagal (albeit breaking out not far off hitting 40) could become an interesting performer. It never happened. Both men in their prime… who wins the fight? Who had the better film career? Let us know in the comments below or on our social channels.
The Ultimate List of the Best Action Movie Hero Names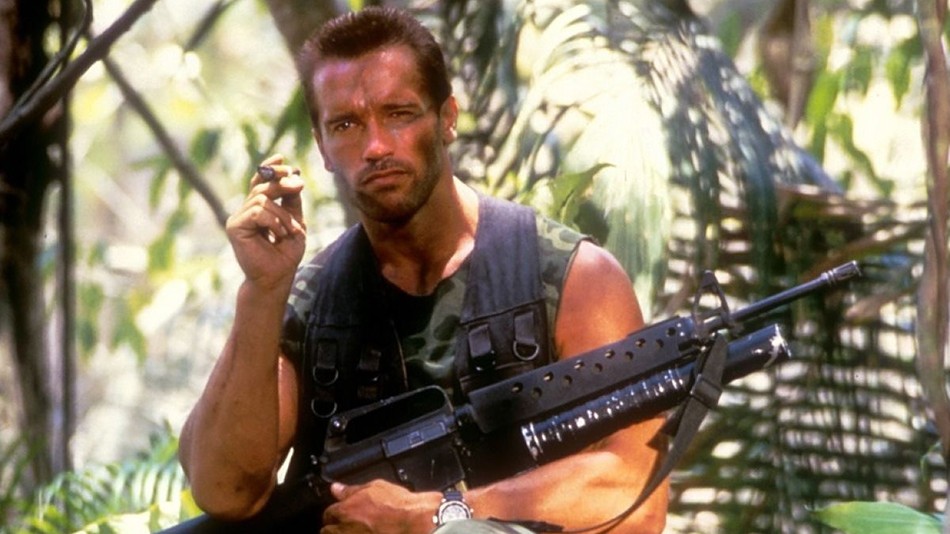 Arnold Schwarzenegger (aka "Arnie", "The Austrian Oak", or "The Govenator") is an ultimate action movie legend of the first class. Both a former Mr. Universe and Mr. Olympia champion bodybuilder and former Governor of California, Arnold has risen to the highest levels of worldly success.
Born in Thal, Styria, Austria, Arnold made his breakthrough into Hollywood action movies originally in sword-and-sorcery with Conan the Barbarian and in sci-fi with The Terminator, early roles which let him hide his thick accent and lack of American acting experience.
However, Arnold quickly found his niche and would go on to helm some of the most critically and commercially successful action movie blockbusters of all time. Including Terminator 2: Judgement Day and the Terminator Series, Commando, Predator, Total Recall and True Lies to name a few. While he has eased up in later years to pursue public office, his legacy remains Arnold strong!
Watch more Arnold Schwarzenegger clips here!
Arnold Schwarzenegger Articles
American Ninja 4: The Annihilation (1991) Biography, Plot, Trailer
American Ninja 4: The Annihilation (1991)
American Ninja 4: The Annihilation is a 1991 American martial arts action film starring Michael Dudikoff, David Bradley, and James Booth. A sequel to American Ninja 3: Blood Hunt (1989), it is the fourth installment in the American Ninja franchise, followed by American Ninja V and was directed by Cedric Sundstrom. The film marked Michael Dudikoff's final appearance in the American Ninja franchise.
Plot
A Delta Force unit attempts to escape from a pursuing group of ninja in a foreign country but most are killed and the rest are captured. The secret Ninja Army is headed by Colonel Scarf Mulgrew) an ex-British policeman and anti-American who has joined with Shiekh Ali Maksood, a Muslim militant, who plans to bring a suitcase nuke to New York. Mulgrew threatens to burn the commandos alive and use the nuke unless he is paid a ransom of 50 million dollars. Agents Sean Davidson and Carl Brackston are sent on a covert mission to rescue the prisoners and defeat the terrorists.
RELATED:
New York Ninja (2021) Biography, Production, Release, Trailer
Sean and Carl parachute in and meet their contact Pango. While gathering information from a local operative named Freddie, they are confronted by Mulgrew and the corrupt local police headed by O'Reilly. Freddie is killed by Mulgrew but Sean, Carl, and Pango escape. Pango takes them to Dr. Sarah a Peace Corps nurse who hides them from the police. Soon after ninjas attack, capturing Sean, Carl and Sarah alive while Pango escapes, and imprisoning them in an old British fort to be tortured by Mulgrew. Mulgrew assaults Sarah and later it is revealed Mulgrew killed her father.
Cast 
Michael Dudikoff as Agent Joe Armstrong
David Bradley as Agent Sean Davidson
Dwayne Alexandre as Agent Carl Brackston
Robin Stille as Dr. Sarah[3]
Ken Gampu as Dr. Tamba
James Booth as Colonel Scarf Mulgrew
Ron Smerczak as Shiekh Ali Maksood
Frantz Dobrowsky as Captain O'Reilly
Kely McClung as Super Ninja
Jody Abrahams as Pango
Anthony Fridjhon as Freddie / Treddle
David Sherwood as Gavin
Sean Kelly as Norris
Jamie Bartlett as Segal
John Pasternak as Carlos
Robin B. Smith as Schultz
Shane Safi as Little Special School Child
The post American Ninja 4: The Annihilation (1991) Biography, Plot, Trailer appeared first on martial-arts-viral-news.
Will Smith CONFRONTS Jim Carrey For HUMILIATING Him On Live TV
Get ready for the ultimate showdown! In this explosive video, Will Smith confronts Jim Carrey after being publicly humiliated on live TV.

The two Hollywood legends have a long-standing rivalry, but things came to a head after Jim's controversial comments about Will during an interview.
With tensions running high, Will finally has the opportunity to confront Jim face-to-face and demand an apology.
But will Jim be able to make amends for his insulting remarks, or will this confrontation only escalate the feud further?
Watch now to find out!
Here on Just In we are all about the latest spill in Hollywood! You can rest assured that we will bring you all the latest celebrity drama and gossip especially concerning your favorite actors! We´ll also make sure to keep you updated on the newest movie updates and releases – so if you are interested in anything that happens in Hollywood, you should make sure to stay tuned!
And there you have it guys! We hope you enjoyed the video! If you did please consider leaving a like and telling us what you thought in the comments!
But will Jim be able to make amends for his insulting remarks, or will this confrontation only escalate the feud further?
Watch now to find out!